Hey yall,
Today is my 25th birthday, yes 25! *wink wink* 😉
Everyone deserves to be showered with gifts on their birthday.
Here is my birthday wish list *operative word is WISH*
First on the list is the iPod Touch.  I really like this gadget because I can have access to the Internet without having to get an AT&T mobile phone plan.  I like my current mobile carrier and I do not want to switch.  I also love my smartphone,a BlackBerry Curve *BlackBerry Brigage Unite!!*,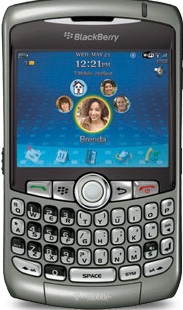 but I do not always have access to certain websites.  On the iPod Touch, as long as there is Wi-Fi, users can have access to the real Internet via Safari, plus loads of games and other fun features and yeah the iPod part too.  I have a feeling that Apple will release a pink iPod Touch next year, so I can wait, but I still want one. LOL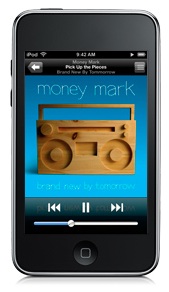 iPod Touch
I am new fan of Asos, a UK e-tailer, and I found a couple of things on the site that I want:
The Betsey Johnson Multi Charm Bracelet Watch.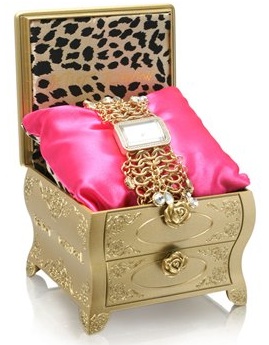 Betsey Johnson Multi Charm Bracelet Watch
I love baubly jewelry and I enjoy the sound that charm bracelets make.   I like the fact the bracelet doubles as a watch. Cute and functional!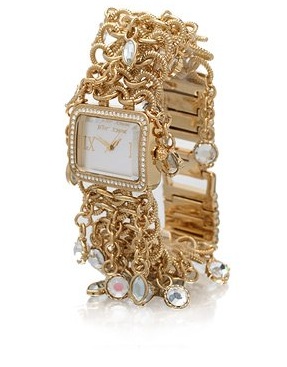 Betsey Johnson Multi Charm Bracelet Watch (Another View)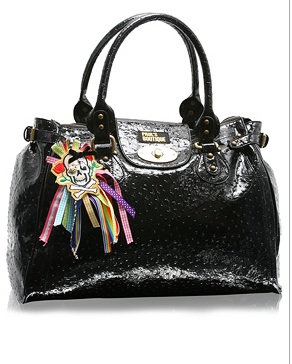 Paul's Boutique Patent Ostrich Twister Bag
This bag is huge and shiny, a great combo in my book. 😉 The older I get, the more accoutrement I need to help me through the day.  Now, I do not like the skull and bones on the purse, but a quick snip should do the job!
Suzi Chin Maggy Boutique Rose Print Pleated Dress is the cutest!  I do not wear dresses often because I am a top and skirt kinda lady.  One can never go wrong with separates if built differently on the top and bottom.  I am not even sure if the dress hides any sins, but I love monochromatic charcoal grey pattern….whimsical yet elegant design.
Suzi Chin Maggy Boutique Rose Print Pleated Dress
The MAC Palette created by Manisha Arora.  Yes, the colors are dupable and I even own some of the colors, but I love the packaging.  MAC Cosmetics knows how to tug at my purse strings.  lol  The corally pink and gold casing with heart-shaped gems, one word "Gorge" lol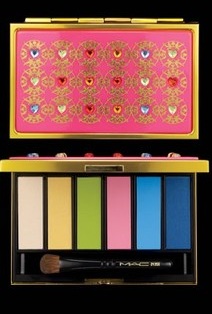 Manish Arora for MAC eye shadow palette (Courtesy of Specktra.net)
I will try to have tons of fun on my birthday, which may include a nap, LOL.  But know for sure that I will be celebrating all week. 😉
Have a great day
Stay beautiful,
Mix Maven