Get out and VOTE today!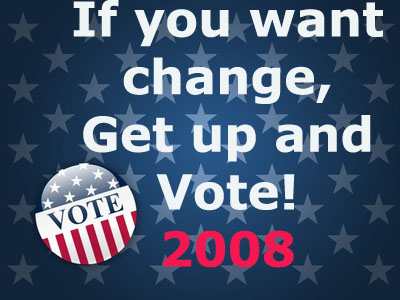 Are you FIRED UP??? Are you READY TO GO??  Well get out and vote!!!  Fire up your Blackberry, iPhone, iPod Touch and/or iPod to entertain yourself while in the line.  Bring a friend, so he or she can hold your place, if you need a bathroom break, bring snacks for your and fellow voters.  Whatever you do, GO VOTE!!  America needs change!
If you need election info – Go to the Election 2008 tab.
PLEASE NOTE: If your name, for whatever reason, does not show up on the Voter's Roll, DO NOT cast a provisional ballot. Call 1-866-OUR-VOTE and the call center staff will assist you through the process.
See you at the polls,
Mix Maven