Hey Glossies,
Hope you had a great week!! I had a great week thus far. Finished up a fun project and I am looking forward to sharing it with you very soon!!
Today's footwear has some of my favorite shoe/accessory components.  I love snake-embossed, pink and metallic leather and if these elements could be rolled into one, then wouldn't life be grand!  Well, maybe not grand, but this shoe will set your wallet back a grand.  The Dior 'Glamour' T-Strap Platform Sandal is TRES FABULOUS!!
I love the pink python embossed coupled with the metallic leather trim.  This t-strap sandal has an adjustable side buckle and is approximately 3.75 inches with a 1-inch platform, so basically, it is a kitten heel.  😉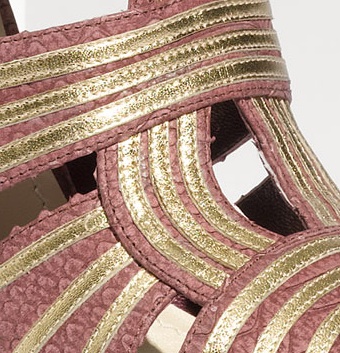 Detail of the Dior Glamour platform sandal.  Oooh the magic I could make in these shoes!!
Retails for $1,100.
Stylist Corner
Mix Maven