Hello Glossies,
Today I continue the holiday Friday Footwear series. This week pump of the week is the J. Crew Mona Oxford Pumps.
I have always been a fan of the spectator/oxford/brogue shoes.  When my dad dresses up, his shoes of choice are wing-tips. I don't think I have ever seen him wear another style.  So he has definitely influenced my love for this style of shoe.  My dad feels that this style shoes are "what the Sophisticated among us wear." Of course, he is in that category. lol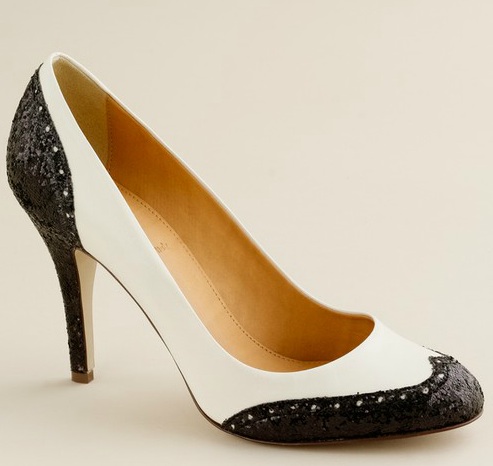 The Mona Oxford is a spectator/brogue-style shoe made with "Italian leather and glitter-coated cotton twill upper" in black and ivory.  The heel is 3.75 inches. The black glitter gives the shoe an extra punch, which propels the Mona Oxford into a great after-five option.  Truth be told, I would wear this before well before 5.
It retails for $238.
Mix Maven