Hey Glossies,
Hope you had a wonderful week and getting ready for a wonderful weekend.
My family and I, often, sing a song that begins, "there is sunshine in my soul today……" Now, I know when the songwriter was thinking up the lyrics, the Talbots Stingray kitten-heel sling did not come to mind. But when I look at the Stingray kitten heel in buttercup yellow, I feel cheerful  and optimistic.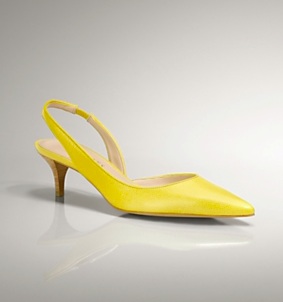 The Stingray kitten slingback has a 2-inch.  The buttercup yellow is embossed leather.  There are other colors: Leopard (grey) fabric, Black patent leather and Red patent leather (good luck tracking that color down).
It retails for $129.  When it comes to Talbots shoes, it is best to buy early because quite a few full-price shoes sell out quickly.
Mix Maven