This time of the year is all about the Friends and Family sales.  Thankfully, I had some gift cards to spend..woohoo!!
My list consisted mainly of NARS and Stila (with some other essentials mixed in).  The Stila Barbie Smudge Pots are amazing.  Rarely do I use them as eyeliners.  Smudge pots are among the best e/s bases I have ever used.   The Barbie Smudge Pots really make life worth living. LOL Ok, ok, ok may be not, but the colors are amazing. Purple Pumps is a blueish-purple with speckles of  pink glitter and the Little Black Dress  (LBD) is black with more speckles of pink.  LBD could pose as MAC's Young Punk me/s and no one would even check the ID. 🙂  I will say the Purple Pumps smudge pot is wetter than other smudge pots, but do not let that be a deterrence.
I had my eye on the NARS duos from the Holiday collection 2009. I prefer NARS darker shades, they work much better on me than NARS lighter shades, which is why I purchased Eurydice and Brousse duos. Eurydice is eggplant and graphite, according the website.  The purple side has flecks of blue, which does not show up to well in the pics. I placed Purple Pumps under the Purple side of Eurydice and the color changed to pinkish navy…very lovely I say. The graphite side is shimmery goodness..definitely has hints of green.  The Brousse Duo is sable/dark violet, which I think would work for a soft daytime smokey look as well as a night-time glammed-up look.  I also had to get my hands on NARS Aigle Noir Soft Touch Shadow Pencil, which is the pencil version of MAC's Black Ore Solar Bits (a beautiful fusion of black and gold)
I will be enjoying my newly acquired goodies!!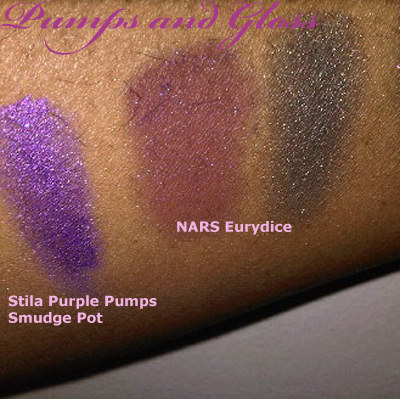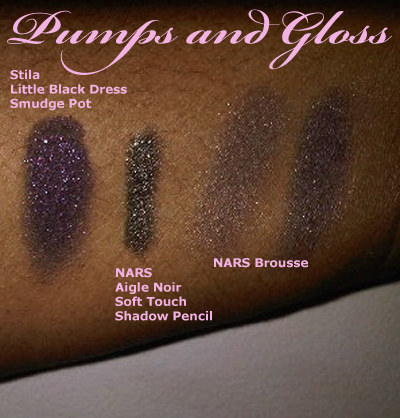 Which items will you be hauling this Friends and Family season?
Happy Haulin',
Mix Maven