So I was looking for new music on iTunes and I stumbled on Laura Izibor, a Soul singer from Ireland.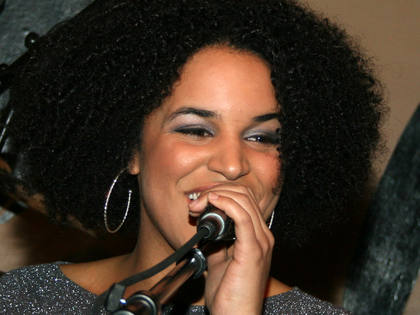 Her lush voice is gritty and smooth (yes, at the same time) on "From My Heart To Yours" Her voice is reminiscent of Jill Scott, Mavis Staples and Candi Staton.  People may compare her to Alicia Keys because she also plays the piano, but her voice has more depth and quality than Ms. Keys.
[youtube http://www.youtube.com/watch?v=Cnmnne2f2WA%5D *From My Heart To Yours*
She has released several EPs and should be releasing a full album in 2009. *Totally looking forward to that*
And people, if you do not have Musiq Soulchild's "OnMyRadio," you need to get it!
Do not let "Radio" scare you. That song was placed at the end of the album for a reason and it sounds nothing like the rest of the album.  The stand outs on the album, for me, are:
Back Again *the melody is quite infectious*
Dear John *a somewhat, cold-hearted tale of dumping his GF via voicemail*
Money Right *He is promising to find a way to take care of his love, even if he has to "beg or borrow." I like the beat. The LM and I dance cheek-to-cheek or I dance by myself doing the "Carlton Dance" lol
Someone *sounds similar to a Robin Thicke song*Great groove nonetheless
Iwannabe *a reggae-tinged track* I love, love this song! Damian Marley does stellar work on this track
Sobeautiful *So sexy* I love when he gets into the falsetto range, makes me mist up (because I think a whisper can be quite sexy)
[youtube http://www.youtube.com/watch?v=xWEXe2CFWjQ%5D *Dear John* One of my faves on the album.
Happy Holidays,
Mix Maven