Hey Glossies,
Recently, I went to a fabulous dinner party at the home of some fabulous friends. The meal was very tasty and the fellowship was fun. Sometimes, I take a pair of fun socks, so I can preserve my hosiery or to hide my lack of pedicure. This time, I took a pair of black patent Kushyfoots Flats-to-Go.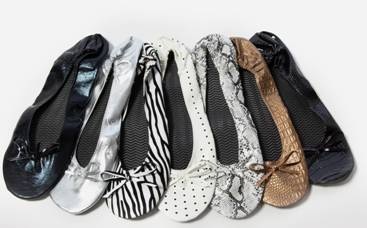 They are very comfortable and very chic. They are portable and easy to clean. The Flats-to-Go also do not scuff floors.
The price is $9.99 and they come in 7 different colors. The sizes available 5/6, 7/8 and 9/10.
I stash mine in my powder room, so when I am headed out the door, I can easily tuck in my purse or coat pocket.
They can be found at retailers like Rite Aid and Nordstrom Rack, as well as on the Kushyfoot website.
Mix Maven
Kushyfoot Flats-to-Go products were provided for review from the manufacturer. Please see Pumps and Gloss disclosure policy for more information.