Hey Glossies,
Hope your weekend was grand!
Makeup brushes can make or break a look, so it is necessary to have the right tools for the job that are CLEAN!
My favorite brush cleaner is the Beautyblender cleanser because it does a really good job removing makeup from the bristles and sponges.
I wash my hands, then I squirt a dot of the cleanser in my hand and swirl the bristles in the palm of my hand. After that, I rinse out the bristles with warm water to remove more product. If I am cleaning a foundation brush or kabuki, I will repeat a couple of times.
If I am running low on the BeautyBlender  cleanser, I will use Philosophy purity made simple high-foaming daily cleanser to clean my brushes. I got the idea to use the cleanser as a brush cleanser after watching a Philosophy presentation on QVC.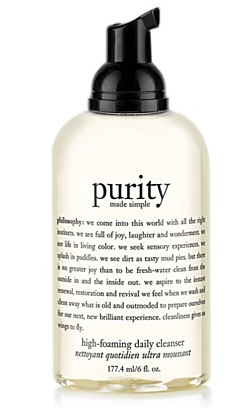 I do the same steps as I would for the Beautyblender cleanser. I do find that I have to work extra hard to remove product from sponges. I also use the Purity or Neutrogena wipes when I am traveling to cleanse eye shadow and eye liner brushes.  However, I do not use these products on a regular basis, but since I am the only person using these brushes, I think I am good to go.
What are some of your beauty cleansing tips and tricks??
Mix Maven