Neutrogena has proven that discount brands do care about the quality of products that are offered to the masses.  A recent post mentioned that Neutrogena wipes as one of the best make-up removers compared to discount and high-end brands.  Phyllis of Forty is the New 20 blog told me Neutrogena wipes were the best she had ever used.  I had to try them out and  yes, the wipes are good, especially at removing mascara and eyeliner.
Because of my positive experience with the wipes, I decided to try the Neutrogena Deep Clean Relaxing Nightly Cleanser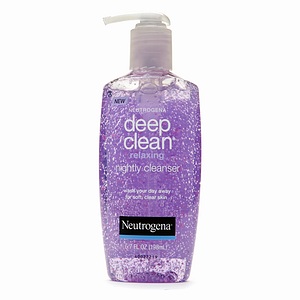 (6.7 fl oz [124 ml]), price is < $8.00 USD. The product is purple with mini beads.  Fortunately, the beads are not abrasive. The lather is foamy, which I like very much!
The first time I used the cleanser after a long day of wearing makeup. First, I cleansed my face with the Neutrogena wipes and washed my face with the deep clean cleanser twice.   My face did not tingle, which was a fear because I have somewhat sensitive skin.  My skin did feel quite clean.
Overall Rating: 4
Price [Value]: 4
Packaging Quality: 4
Would you buy this product again? Yes
I would definitely purchase the item again, even though I am not a huge fan of the scent.  The scent is not offensive, so some will enjoy it.
Mix Maven