Happy Monday Glossy Ones,
October is coming to an end, but let us keep Breast Cancer Awareness in mind and heart throughout the year.  If you have a cause that you would like us to share with our readers, send us an e-mail at [email protected].

MONDAY MELODY
I am really liking Keyshia Cole's "Should Have Let You Go."  This is my favorite song by her to date.

MONDAY FLASHBACK

[youtube http://youtube.com/watch?v=HDtFrvbmtf0%5D

I heard "Goodbye Love" by Guy on the radio late the other night and it made me think of this song.  I don't know how true this is, but at the time, I heard when the Guy reunion initially didn't work out, Teddy Riley gave this song to Blackstreet.  Here's "Don't Leave Me."  The Guy reunion worked out after this and the only song I remember from that project is "Dancin," which I really liked.

DESIGNER SPOTLIGHT:  The Gap's (Product)Red Line
I hold three causes very close to my heart – church, breast cancer and Africa.  The Gap has partnered with (Product) Red and 50% of all sales go to helping Africa with the fight against A.I.D.S.  There are fashions for the whole family, so be sure to check out the entire line HERE.  Here are my three favorite items: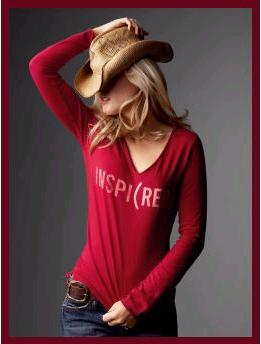 I simply must have this "Inspi(red)" top – too cute.  A Gap.com Exclusive, it comes in sizes XS-XXL.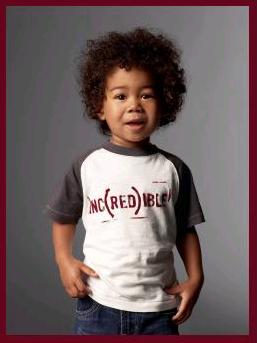 How adorable!  This baby t-shirt comes in sizes 3-6M, 12-18M, 18-24M, and 2 Years to 5 Years Old.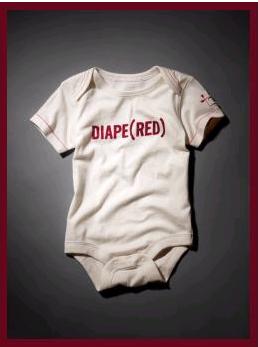 Can't you see your little sweet pea in this?  Sizes 0-24 Months.
To learn more about thee (Product) Red initiative, go to JoinRed.com.

SO YOU THINK YOU CAN DANCE?

I love to dance, so I thought I would share my favorite dance-related songs.

[youtube http://youtube.com/watch?v=sLGLum5SyKQ%5D

The dance to "Crank That" by Soulja Boy Tellem is more like a routine, so I figured I better post the instructions!

[youtube http://youtube.com/watch?v=h24_zoqu4_Q%5D

The "Cupid Shuffle" by Cupid is a fave because it is easy! LOL!  This song will forever remind me of my family reunion!

[youtube http://youtube.com/watch?v=G5X6r_6EydE%5D

This was the jam way back when!  I just had to have that #1 Anfernee Hardaway jersey – I miss you Penny (oh, he was so fine)!!!  I know you all have to remember "Tootsee Roll" by the 69 Boys.  Dip Baby, Dip!

JOY'S SHOE PICK
Sometimes, you have to give your feet a break and wear some flats.  I keep flats in the car for after church and other dressy occassions.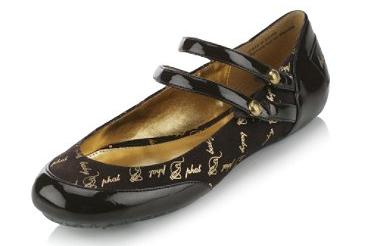 The adorable "Luena" by Baby Phat is perfect for shopping sprees and when you need a break from your heels. 

MONDAY PRAISE

[youtube http://youtube.com/watch?v=Jj_UqJv5Rtc%5D

A friend of mine once said "CeCe Winans has a real connection with God because it just shines through in her music."  Amen!  Here is one of my favorite songs by CeCe – "Alabaster Box."

"Alabaster Box" is based on this Scripture:
Now one of the Pharisees invited Jesus to have dinner with him, so he went to the Pharisee's house and reclined at the table. When a woman who had lived a sinful life in that town learned that Jesus was eating at the Pharisee's house, she brought an alabaster jar of perfume, and as she stood behind him at his feet weeping, she began to wet his feet with her tears. Then she wiped them with her hair, kissed them and poured perfume on them.
When the Pharisee who had invited him saw this, he said to himself, "If this man were a prophet, he would know who is touching him and what kind of woman she is—that she is a sinner."
Jesus answered him, "Simon, I have something to tell you."   "Tell me, teacher," he said.
"Two men owed money to a certain moneylender. One owed him five hundred denarii, and the other fifty.  Neither of them had the money to pay him back, so he canceled the debts of both. Now which of them will love him more?"
Simon replied, "I suppose the one who had the bigger debt canceled."   "You have judged correctly," Jesus said.
Then he turned toward the woman and said to Simon, "Do you see this woman? I came into your house. You did not give me any water for my feet, but she wet my feet with her tears and wiped them with her hair.  You did not give me a kiss, but this woman, from the time I entered, has not stopped kissing my feet.  You did not put oil on my head, but she has poured perfume on my feet.  Therefore, I tell you, her many sins have been forgiven—for she loved much. But he who has been forgiven little loves little."
Then Jesus said to her, "Your sins are forgiven."
The other guests began to say among themselves, "Who is this who even forgives sins?"
Jesus said to the woman, "Your faith has saved you; go in peace."
~ Luke 7:36-50 NIV
Have a Wonderful Week!
~ Joy