Today is Beauty.com's 10th anniversary (CONGRATULATIONS!!! HOPE YOU HAVE MANY MORE.) So the beauty e-tailer is having a Friends and Family Sale…. 20% off, now until, Friday May 22, 2009.  (You have until 11:59 PST.) One restriction is that items purchased from Drugstore.com (partner site) will not receive the 20% discount.
You can find top beauty brands like Urban Decay, Stila, theBalm, Lorac, NARS and CARGO. You can also purchase skincare products, beauty tools and other related beauty needs.
(Click on image below to go the Beauty.com Friends and Family Event)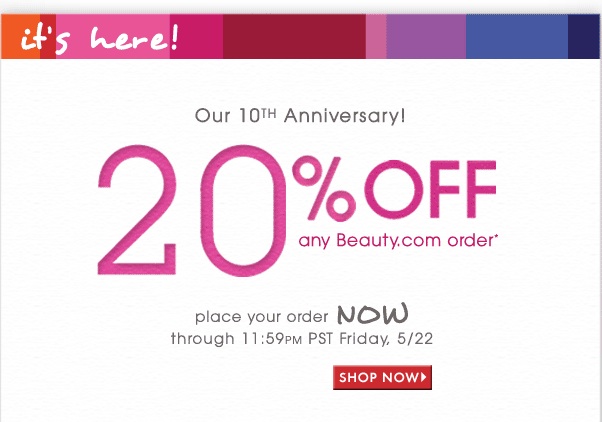 Beauty.com is great because each shipped order earns you a 5% rebate to be used at the beginning of each quarter. The more you spend, the more you earn.
Happy Haulin,
Mix Maven