Hey Glossies,
We are back from our summer vacay!
Fall is right around the corner and I am looking forward to wearing all my fall and winter pieces.  And I am loving the colors that Pantone selected for Women for Fall 2012.
In the Pantone Fashion Color Report Fall 2012 for Women, we see a lot of bright, a few neutral colors and a couple of light colors.  The colors are: French Roast, Honey Gold, Pink Flambé, Tangerine Tango (cannot get enough of this color), Ultramarine Green, Bright Chartreuse, Olympian Blue, Titanium, Rhapsody and Rose Smoke. The colors in the palette play nice with each other as well as other colors in our wardrobe.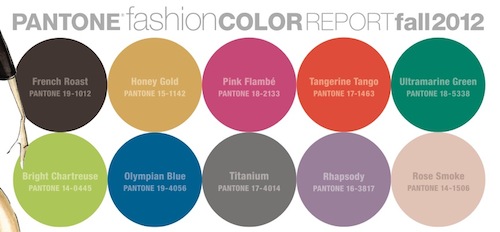 Here are some outfits that I created on Polyvore using the Pantone Fall 2012 colors:
Tango Tangerine makes another appearance in the Fall 2012 list of colors.  This is one color that can work in every season.  Titanium, Olympian Blue and Rose Smoke round out the set colors. Sidebar: Peplum is on trend for the fall 2012 and Spring 2013 seasons. Yay for that!
I am very fond of a winter lilac (Rhapsody).  I paired a cardigan (Rhapsody) with a wool skirt in (Pink Flambé). I love these two colors together and they will brighten up any dreary fall/winter day.
More Pink Flambé!! I paired a gorgeous peplum top with a blue leather skirt. I also added a classic trench, a multi-colored T-strap pumps that bring out the colors in the outfit (including accessories) and a purse in Rose Smoke.
This set includes French Roast, Honey Gold and Rose Smoke.   French Roast is a great color….works well for all seasons.  The Honey Gold is a quintessential fall color.  The dress has Black and Rose Smoke stripes.  The wool coat in Honey Gold is another classic option that can be great for many fall/winter seasons to come.
This set includes Chartreuse and Ultramarine Green.  Chartreuse adds a great punch of color to this outfit. Ultramarine Green is another all-seasons color.  I need the booties!
More French Roast, Rose Smoke and Pink Flambé.  The leather peplum jacket is a great addition for the fall.  I am also loving the gold Christian Louboutin booties.
Are you excited about the Fall 2012 Colors??  If so, which one(s)??
Mix Maven