Hey Glossies,
I am kind of getting exciting about spring, even though I still have quite a few winter outfits to wear.  I do not want to rush away the winter season as it has been totally bearable, thus far. 😉
Today's selection is the Asos Santo Suede Point Court Shoes in (Cornflower) Blue. I found this shoe as I was looking for an orangey-red patent leather pumps.  I still I have not found the right pumps, but I am sure am glad I found the suede blue court shoes. (Sidebar – Court shoes are the British way of saying Pumps or Heels. Hmmm Court shoes and gloss does not have the same ring to it! lol)
The Asos Santo Suede Point Court Shoes in Blue is approximately 4.7 inches of heel with no platform. It also comes in a yellow and pink.  The Santo Suede Point Court Shoes is a great pump for Spring.  Do not let the suede confuse you.  I am strong believer in wearing Suede in the Spring and early summer, especially in lighter and brighter colors.  I have several suede slingbacks that I, gladly, wear in the Spring/Summer seasons.
Asos Santo Suede Point Court Shoes retails for under $100.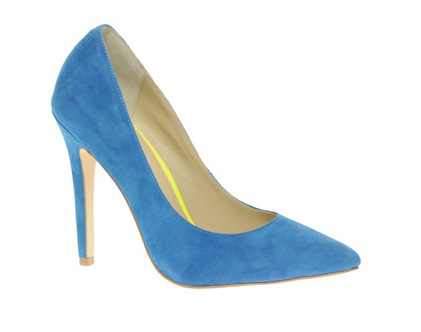 Stylist Corner
I really like this shade of blue. It reminds me of deep sky blue and a cornflower. Not too light and not the royal blue, of which I am not a huge fan.  I love it with yellows, corals, pinks, rosy mauve, white and kelly greens.
In the look below, I created a look that is uber-feminine with a hint naughty. Can you spot the hint? 😉
Have a wonderful weekend!
Mix Maven