Hey Glossies,
Today's Friday Footwear is a tribute to my dear maternal grandmother. I miss her dearly.
I need to explain my affinity for black patent leather. I love it and I cannot remember a time not loving it.  It all started with my grandmother,who, if I dare say, put the ON in fashion.  Because she was always ON it! ) I will credit her for passing on her excellent sense of style and great taste to me. 😉
My grandmother, "Pearl",  and I were very close. I spent large chunks of time with her on the weekends because she lived upstairs from us.  From time to time, I would spend time with her while she was working.  She was a deeply religious lady who knew how to have tons of fun, in moderation, of course.  🙂
She knew how to dress! While other grandmothers were looking frumpy, she was always quite chic, showing a hint of cleavage and/or leg, at times. (And for those who know me very well, know that is where I get it from) lol. She was the familial guardian of fashion and we all looked to her for guidance because if Grandma could wear something, so could we.
I remember her having a lot of shoes, but I recall, vividly, her patent leather pumps and and a strappy black and taupe high heel sandals.  As a young girl, I would put on the black patent leather pumps and strut around the house and when I say "strut" I really mean I wobbled around the place.  I couldn't wait to be of age where I could wear them for real.
So with all that being said, my Friday Footwear selection is the Dolce Vita 'Claudine' Pump in the black patent leather (it also comes in nude).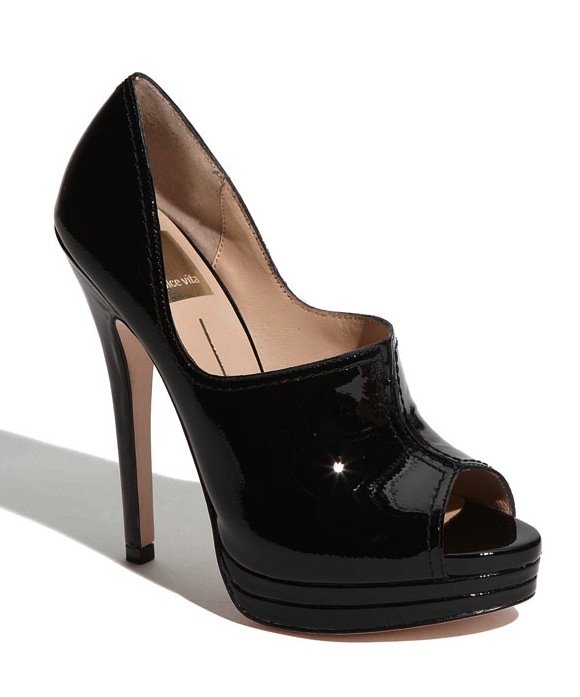 I believe my grandmother would've have worn these retro-inspired pumps, well maybe if the heels were 3.5 inches instead of 5.25 inches.
I created Polyvore  set on what I think "Pearl" would have worn the shoes with.
Pearl of Great Price by Pumps and Gloss featuring a gray tweed jacket
I am wishing all the Mothers out there, a happy Mother's Day!!
Mix Maven