Hey Glossies,
Today's Friday Footwear comes from the awesome blogger, Kenya of Brown Girlz Rock. Kenya is the latest addition to Partners in Pretty (PIP).  This group has some fun things planned for everyone who loves Pretty….so watch out for more details!!
Now for the Friday Footwear….
Kenya has selected Jessica Simpson Vanessa Boot.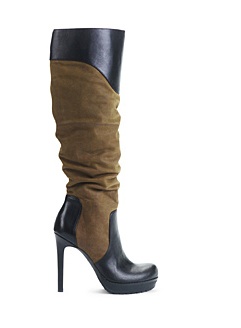 The Vanessa boot is described as a gorgeous mix of soft suede and sleek leather. It has a 1-inch platform and a 4.5-inch heel. This boot comes in two colors Black and Army Brown; I like the Army Brown pair the best. I love when fall comes because it's time to shop for stylish boots and cute sweaters or blazers. So, I'm always on the prowl for some hot boots and I always know just were to look. I am a huge fan of Jessica Simpson shoes and I own about five pairs of shoes. When I went on her website yesterday, these boots immediately caught my eye, as well as, three other pairs.  I love these because I can see myself wearing them with my sweater dresses, skirts and jeans. The color and fabric combination are very appealing to me because I own a lot of Army (Olive Green) and Black pieces in my wardrobe. Suede shoes and boots are in for the fall season,  so these babies won't disappoint me at all. The price is $179 which is on the pricey side, but I prefer quality over quantity.                                       – Kenya of Brown Girlz Rock
Stylist Corner
Below is the look I put together.  I came up with the title since the boot's color is Army Green.  *Glad the policy has been repealed!*
I could not choose between the olive green Talbots belt and spotty ponyskin Topshop belt.
Have a great weekend,
Mix Maven