Hello Glossies,
My week has been quite hectic and I am looking forward to the weekend.
Over the past week, I have been thinking more about fall and what are some essential pieces and colors I need.  One of the colors that has been on my radar is grey.  Now, I know that is not a groundbreaking color, but sometimes grey does not get the proper love it deserves.
One of the essential fall pieces for me is the Talbots Epaulette boyfriend cardi in Flint Grey.  This cardigan was apart of the April spring collection.  To be honest, I do not think many people were keen on this color for spring, even though the grey was on trend for the season. But April's loss is September's gain.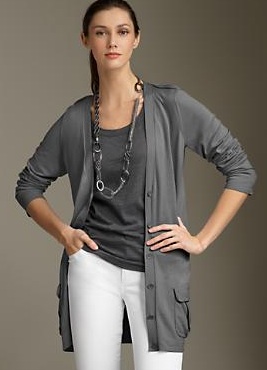 The other grey essential is the Talbots Leather open-toe lace up platform in Shadow Grey.  I adore this shoe.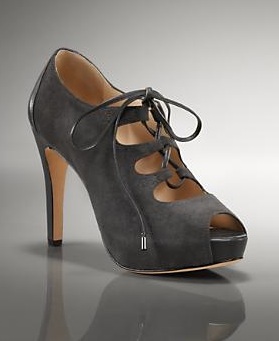 Normally, I am not a fan of the open-toe bootie, but since the top is open as well, I can bend the rules a bit. LOL. The heel length is 3.75 inches and the platform looks to be about an inch, which would make the heel 2.75 inches.
I might have to bend my 'full-price' rule, if I see that the shoes are selling out quickly.  Maybe a nice birthday gift *hint, hint* lol
Talbots Leather open-toe lace up platforms also comes in Black and Brown.
The shoe retails for $159.
Mix Maven