Happy Monday Glossy Ones,
Happy October!  Is it me or is the year flying by?  Don't get me started on how quickly summer passed us by.
 MONDAY MELODIES

[youtube http://youtube.com/watch?v=EldJirqs0nU%5D

Rihanna and Ne-Yo team up for "Hate That I Love You."  Say what you want about these two, but they are making big things happen.  I am a little disappointed by Ne-Yo's new video, "Can We Chill" – the song is cool, but I was expecting more.

[youtube http://youtube.com/watch?v=fmX9ci9Fczw%5D

Mix Maven and I were just saying how hot this song is and then I came across the video on Yahoo Music.  Here is the one, the only, Kayne West (featuring T-Pain) with "Good Life."

Speaking of Yahoo Music, I loooove their Urban New Releases Radio Station.
STARBUCKS
I am not a coffe drinker, but when a dear friend of mine wanted to get together at Starbucks, I did not have the heart to say no or let's meet somewhere else.  I mentioned to Sensual Element that I was going to Starbucks and she told me to try the Hot Apple Cider.  Mmmmmmmmmmm, it was SOOOOO good!  I had the Blueberry Coffee Cake and had a sample of the Iced Lemon Loaf.  I see why people are so addicted to Starbucks – great atmosphere, good drinks (even if you don't like coffee), WiFi, and sweet sweets.  I am officially addicted. 
BREAST CANCER AWARENESS MONTH
October is National Breast Cancer Awareness Month and I encourage each and every one of you to get involved.  The American Cancer Society is sponsoring walks in every major area during this month – get out and walk, donate to the cause (every little bit helps) or eduate yourself on this disease.  My Mom and I walked in the Making Strides Against Breast Cancer Walk last year and this year, we will be walking on a team that was started by a lady at my church.  My husband and I also walked with church members this summer at the Susan G. Komen event.  Let's rally together to make a difference Ladies and Gents!
Even Bath and Body Works is getting involved by selling the C.O. Bigelow Shine For Life Mentha Lip Tint.

You can even eat to help the cause!  Yoplait has been promoting the Pink Lidcampaign for awhile now.  Buy Yoplait yogurt, save the pink lids and mail them in by December 31, 2007.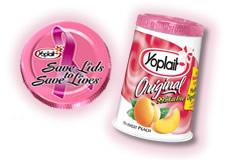 Hopefully there is a Tanger Outlet in your area – they are selling PINK SAVINGS CARDS for $1.00.  For $1.00, you will receive a 25% off coupon to be used in one store in the Outlet Center.  Buy as many cards as you want to use in as many stores as you want.  Great deal for a great cause.
JOY'S BOOT PICK
The last time I did a boot pick, I showed an Aerosole boot.  Well, here is another Aerosole boot that has caught my eye.  I love the studs on the Lane Squeeze.  It also comes in brown leather.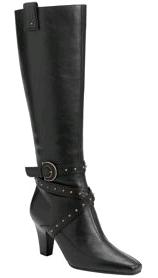 ARE YOU READY FOR SOME FOOTBALL?
Before I met my husband, I knew nothing about football.  Since he played football in high school and college, his brother played in high school and college, and their mother was their biggest cheerleader, I found it best that I learn the basics of the game so I wouldn't be so bored at family dinners.  Hubby taught me the basics a few years ago and now I am a football junkie – College and NFL.  Right now, I am going to talk about College Football very briefly.
Before I start,  if you need to know the basics, go HERE.
What in the world happened to Oklahoma, Alabama, Alabama State, Michigan State, and Texas??????  This was an unbelievable Saturday.  While I have love for Northwestern, Michigan cannot afford any more losses this season.  Glad that Michigan, Alabama A&M, and Purdue did their thing.  I know I am leaving some teams out, but I did say "very briefly."
MONDAY PRAISE

This song reminds of Sunday Morning.  Here is "Jesus Is Love" by The Commodores.

[youtube http://youtube.com/watch?v=A7WW9uLKr0E%5D

This song always gives me chills – whether it's Richard Smallwood's version  or Whitney Houston's version.  Here is Whitney's version of "I Love The Lord."

[youtube http://youtube.com/watch?v=r6GNWxjlIkE%5D
Though you have not seen him, you love him; and even though you do not see him now, you believe in him and are filled with an inexpressible and glorious joy, for you are receiving the goal of your faith, the salvation of your souls.  ~ 1 Peter 1:8-9
Although we can't see him, let us look for him in others.  Have a wonderful week!
~J.R.