We found a really great website to close out Sex and Love Week with a bang!
Vibrator.com has any and everything for you and your lover. Judging by the name of the site, they have any and everything for you alone too! Do not let the name fool you – the site is tasteful, professional and has Hacker Safe protection.
When we decided to do our picks from Vibrator.com, it was so hard to just pick a few items. From bullets, to lotions, to dildos, to "pillows", to lingerie, to games, to (of course) vibrators, to all kinds of sex toys….and on and on we could go, you have to check this site out for yourself.
Here are our Glossy Picks from Vibrator.com….
Joyful Radiance and her hubby love games and this one looks like so much fun!
PervARTistry is a drawing game with 500 sex related words for you to draw. While the box says you don't have to be a pervert to play, but it probably doesn't hurt.
Joy believes that "every woman's secret fantasy is to have a waterproof vibrator for the bath or shower" (Deny it all you want!). The Elite 7x Waterproof Ultimate Orgasm Vibrator will satisfy any fantasy you may have.
Mix Maven needs a place to stash her toys. This attractive, yet low-key Sex Toy Chest will hold all her many sex toys (Mix says, "Ok, not that many.") The chest can be stored anywhere for easy access.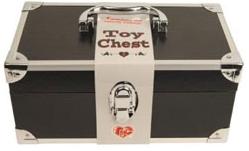 The Cosmic Invader is a nice addition to Mix's collection. This toy does the job well. Mix loves to use the Cosmic Invader with or without the battery…. She purrs, "It definitely hits the G spot!! Works well in foreplay and post play!!" She gives it 3 out of 4 Pumps.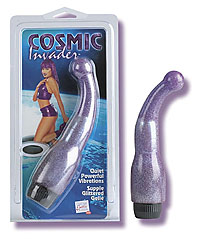 Sensual Element is drawn to the Liberator Cube. Sen says, "Thisis different and looks like it would bring a lot of joy! On the Cube, you can effortlessly transition from lap dance into vertical sex (Lotus position for you Kama Sutra students). The Cube is also good for doggie style when positioned next to a bed and makes off-the-side-of-the-bed sex much better. While not in use the Cube disguises itself as a chic ottoman."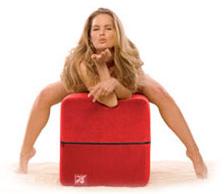 Sen is all for getting to know your lover on a more intimate level. That's why she chose the "Hump" game. A fun and sexy game, you have to play to win because the winner is rewarded nicely!
We cannot express how difficult it was to just pick two items each to share. All three of us are likely to go broke placing orders on Vibrator.com. We will be sharing what we buy in the near future!
We love Vibrator.com so much that we want you to join in on the fun. The Ladies of Pumps and Gloss are giving away a $30.00 Gift Certificate so you can get your shop on at Vibrator.com!
To enter, e-mail us at [email protected] with your 1) Name, 2) City and State, and 3) Tell us what you like and/or dislike about our site and any topic suggestions for our Sex and Love Fridays. We value your feedback!
The deadline to enter is 12 Noon EST Wednesday, October 3, 2007. The Ladies of Pumps and Gloss will vote and the Winner will be announced on Friday, October 5, 2007.
We hope you enjoyed Sex and Love Week!
The Ladies of Pumps and Gloss