Happy Monday Glossy Ones!
I hope you all had a great weekend.  I have been sick since last Saturday – yes, over a week now, so consider yourselves special because I dragged myself out of bed to do this post! LOL!  I'm tired, so this post will be short and sweet.
MONDAY MELODY

[youtube http://youtube.com/watch?v=IOvvhe63Od8%5D

How I wish I was doing "Just Fine."  Here is Mary J. Blige's new jam – can't wait to hear her new cd.
MONDAY FLASHBACK

[youtube http://youtube.com/watch?v=hgCvVFJkkp0%5D

I can never get enough of New Edition – they are my boy band of choice for always! LOL!  The "Home Again" Reunion cd is in my top ten favorite cds.  Here is "Hit Me Off" (above).  Who knew BBD would jam the way they did?  Here is "Poison" (below) – "Do Me" will have to be saved for a Friday.  😉

[youtube http://youtube.com/watch?v=N6blgjF6UkU%5D
TREATING AND PREVENTING COLDS from Tylenol.com
Believe it or not, it's possible to sneak through the season without getting the cold that everybody else has. Below are tips on how to do it. And just in case you still catch a cold, we've got tips for feeling better until the cold goes away.
Tips for Preventing Colds
Frequently disinfect surfaces in your home and office-especially things like phones and doorknobs that many people touch.
Wash your hands often.
Tips for Treating Colds
A cold has to run its course (usually around a week), but you can make yourself more comfortable while your body fights it off by getting plenty of rest, and drinking plenty of fluids.
Stay comfortable. Treat the symptoms that bother you most.
A humidifier may help ease your congestion and throat discomfort.
To avoid spreading the illness, try to stay away from others if you can-and wash your hands frequently.
JOY'S BOOT PICK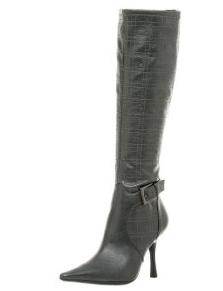 I love this BCBGirls Karla Knee High Boot.  I like it in all the colors offered, but I especially like it in the Vintage Pewter because you get the imprint on the shaft of the boot.  Hot color and design – it's a win-win.
MONDAY PRAISE

[youtube http://youtube.com/watch?v=-c7jkmIQb6Y%5D

Whatever happened to Take 6?  What great harmony!  Here is "I L-O-V-E -U" (above) and "The Biggest Part of Me." (below)

[youtube http://youtube.com/watch?v=LgTeqcYZLZA%5D
A cheerful look brings joy to the heart, and good news gives health to the bones. ~Proverbs 15:30
Pleasant words are a honeycomb, sweet to the soul and healing to the bones. ~Proverbs 16:24
But he was pierced for our transgressions, he was crushed for our iniquities; the punishment that brought us peace was upon him, and by his wounds we are healed. ~Isaiah 53:5
Stay Well Glossy Ones!  It's back to bed I go…
~ Joy