Hey Pumps and Gloss Readers,
Happy Tuesday to you! I hope you all enjoyed your extended holiday weekend.
Mr. Maven and I had to a chance to spend a part of the holiday weekend in Chicago for my friend, LH, surprise engagement party. You may remember LH from an earlier post I wrote about "Shopping Serendipity" about one of my friends who asked God to help her find an inexpensive, yet elegant dress and she did.
In early August 2007, J, LH's sister, invited us to the engagement soiree. We gladly accepted the invitation for this joyous occasion. Both LH's and her fiance's families went the extra mile in planning this event. They all had her believing she was going to get the proposal around December 2007.
Fast forward to Saturday night. Elaborate romantic plans were made for the actual engagement. Every action was well-thought out. (Sidebar: I am going to suggest to GS to do a series of seminars on the fundamentals of romance. Let's just say he raised the bar!) Everyone congregated in the fiance's (GS) family's home. The great thing is that she had no idea that family and friends came from far and near to celebrate her engagement. (Backtrack: LH and I were chatting a few weeks back about what she thought the proposal would be like, so I told her to be patient and it will happen soon enough probably by October or November.)
So G suggested to L that they go back to his mom's house to show off the ring. She called her parents and siblings to let them know what happened. They were all "stunned, yet happy" for the news. As they were approaching the house, we were all instructed to hide. As we heard the first set of "Congratulations" from her family, the rest of us emerged. She was so surprised that she cried. (I was misting up too!!) LH was totally speechless when she realized that her parents had flown in from the Southwest to share this wonderful memory. When she saw the rest of us, she could barely stand because she was too stunned.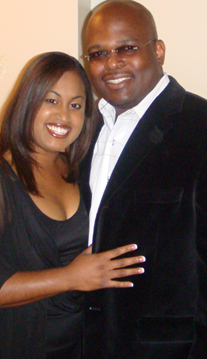 The rest of the night was about showing off the ring (which was absolutely LOVELY!) and sharing each version of the engagement story (the best!!!!) My heart was warmed that night to be apart of Love that was in the room:
The obvious Eros – romantic love – L and G.
The Agape – the love that we have for God for being wonderful and always working on our behalf, even though at times things may be seem hopeless.
The Philos love – the love shared among family, friends and community.
Storge – the specific love that a family shares with each other.
I was very impressed, not shocked, than Mama and Sister S love LH, so that will be 3/4 of the battle won. We, Mr. Maven and I, look forward to sharing more wonderful memories with LH and GS. May God continue to be in their details and that their love for each other will continue to grow.

[youtube http://www.youtube.com/watch?v=UtMzTFaFs6E%5D

We learned that JOE's "I Wanna Know" is LH's special ringtone on GS' phone. (A great song!!)

Continue to Live Triumphantly,

Mix Maven