This Deal is Good Through Saturday, September 8, 2007.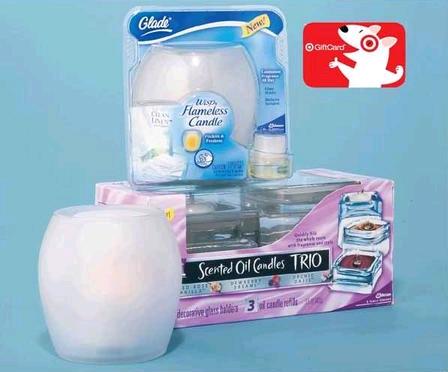 If you purchase the Glade Wisp Flameless Candle (battery operated) or the Glade Scented Oils Trio (both priced at $9.99), you will receive a free $5.00 Target Gift Card.
I am a candle fan, so while I was in a store last week, I saw that they had $4.00 coupons for the Flameless Candle. I got four (yippee!). Went to Target to get school supplies for my Goddaughter yesterday and came across this deal. Coupons in hand, I got four Flameless Candles in the Clean Linen Scent.
$9.99 – $4.00 Coupon = $5.99 + A Free $5.00 Gift Card
I now have $20.00 in Target Gift cards! Needless to say, it was a good day.
Go to the Glade Flameless Candle site to PRINT your $4.00 off coupon!
~ J.R.