I decided to post some Pink e/s swatches, so you can compare.  (I also updated the
Swatch Gallery,
so you can see more pink eye shadow swatches)  My favorite non-Too Faced pink e/s is Nouba 51 (Bright Pink).  I am not sure if the picture gives it justice, but the color is sharp and the texture is smooth.  Definitely worth checking out.
I found out that the
Nouba
brand uses similar or the same ingredients as MAC products and the prices are very similar, actually Nouba is slightly more expensive than MAC, while the e/s packaging is similar to NARS, same rubber exterior and interior mirror.
If you want to check out online, here are some stores.
Bebeautiful – Offers Nouba at a discounted rate.
Beauty Encounter – Has great photos of these products, since I have already some, I can tell you the colors (images) are pretty accurate.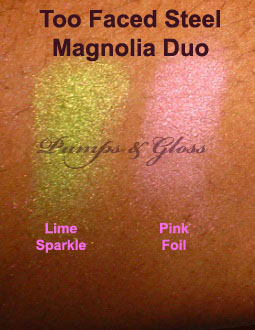 REMEMBER to check out the Total Beauty – Total Cure campaign.  You still have time to support.
Mix Maven