Hey Glossies,
I hope you all are doing well. I have been experiencing some technical difficulties on my plucky blog. ;). Still working out the kinks to create a new look for the blog.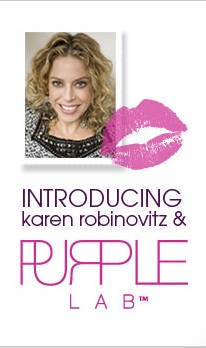 But on to the good news.   Starting February 18 to February 20, 2010 (1-hour Prime-time specials), Purple Lab Founder and Creatix, Karen Robinovitz will be showcasing Purple Lab's fabulous double-duty products on HSN.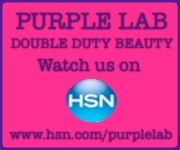 Purple Lab exclusive HSN Products include:
Huge Lips Skinny Hips ($22.00), a lip plumping gloss enriched with hoodia
Lashionista Modelista ($26.50), a protein-packed mascara/felt tip liquid liner duo with lash conditioner
Silk Sheets ($28.50), a luxe foundation
Luvah ($22.50), a compact with lip stain and gloss
Luxury Squared ($24.50), highlighter and concealer
Cheek Implants($24.00), cream blush complete with collagen
Here are the times and days that Purple Lab will be on the HSN:
February 18th at 9am EST
February 18th at 8pm EST
February 19th at 12pm EST
Friday 19th at 7pm EST
February 20th at 2am EST
I am very excited about this launch and I have already set my DVR for a couple of the airings. If you want to pre-order, go HSN.Com.
If you are on twitter, please join me @PumpsandGloss, as I will be live tweeting Purple Lab's HSN visit on February 18 from 8p-9p (EST)