The Ladies of Pumps and Gloss were saddened to hear about the passing of Yolanda Denise King.  Let us keep her family in our prayers. 
From Yahoo! News:
Daughter of Martin Luther King Jr. dies
By ERRIN HAINES, Associated Press Writer
ATLANTA – Yolanda King, the Rev. Martin Luther King Jr.'s eldest child who pursued her father's dream of racial harmony through drama and motivational speaking, collapsed and died after making a speech. She was 51.
King died late Tuesday in Santa Monica, Calif., said Steve Klein, a spokesman for the King Center. The family did not know the cause of death, but relatives think it might have been a heart problem, he said. "She was an actress, author, producer, advocate for peace and nonviolence, who was known and loved for her motivational and inspirational contributions to society," the King family said in a statement.Former Mayor Andrew Young, a lieutenant of her father's who has remained close to the family, said Yolanda King had just spoken at an event for the American Heart Association.  She was helping the association raise awareness, especially among blacks, about strokes.
Young said she was going to her brother Dexter's home when she collapsed in the doorway.
Her death came less than a year and a half after her mother, Coretta Scott King, died in January 2006.
Yolanda King, who lived in California, was an actress, ran a production company and appeared in numerous films, including "Ghosts of Mississippi." She played Rosa Parks in the 1978 miniseries "King."
"Yolanda was lovely. She wore the mantle of princess, and she wore it with dignity and charm," said the Rev. Joseph Lowery, one of her father's close aides in the civil rights movement. He added she was "thoroughly committed to the movement and found her own means of expressing that commitment through drama."President Bush and first lady Laura Bush said their thoughts were with King's family, White House press secretary Tony Snow said."She devoted her life to furthering human rights and peace, and was a seasoned and respected actress who used her talents to champion social change and equal rights," Snow said.The Rev.  Al Sharpton called Yolanda King was a "torch bearer for her parents and a committed activist in her own right."Yolanda King founded and led Higher Ground Productions, billed as a "gateway for inner peace, unity and global transformation." On her company's Web site, she described her mission as encouraging personal growth and positive social change.
The flag at The King Center, where she was a board member, flew at half-staff on Wednesday.
Yolanda Denise King — nicknamed Yoki by the family — was born Nov. 17, 1955, in Montgomery, Ala., where her father was then preaching. Her brother Martin III was born in 1957; brother Dexter in 1961; and sister Bernice in 1963.
She was born just two weeks before Rosa Parks refused to give up her seat on a bus there, leading to the Montgomery bus boycott spearheaded by her father.
She was just 10 weeks old when the King family home was bombed in Jan. 30, 1956, as her father attended a boycott rally. Neither she nor her mother was injured when the device exploded on the front porch.
She was 7 when her father mentioned her and her siblings in his 1963 speech at the March on Washington: "I have a dream that my four little children will one day live in a nation where they will not be judged by the color of their skin but by the content of their character."
She was 12 when her father was assassinated in Memphis, Tenn., in 1968.
Yolanda King was the most visible of the four children during this year's Martin Luther King Day in January, the first since her mother's death.
When asked by The Associated Press at that event how she was dealing with the loss of her mother, she responded: "I connected with her spirit so strongly. I am in direct contact with her spirit, and that has given me so much peace and so much strength."
At her father's Ebenezer Baptist Church in Atlanta, she performed a series of solo skits that told stories including a girl's first ride on a desegregated bus and a college student's recollection of the 1963 campaign to desegregate Birmingham, Ala.
She also urged the audience to be a force for peace and love, and to use the King holiday each year to ask tough questions about their own beliefs about prejudice.
"We must keep reaching across the table and, in the tradition of Martin Luther King Jr. and Coretta Scott King, feed each other," she said.
Funeral arrangements would be announced later, the family said in a brief statement.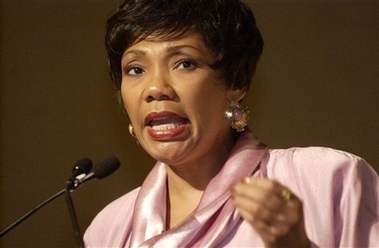 ____
On the Net:
Higher Ground Productions: http://www.yolanda-king.com