Hey Glossies,
The saga continues….
I finally wore my updated Prescriptives Custom Blend (CB) foundation.  I have learned that Custom Blend is as good as the blender.  The second MA did a much better job than the initial MA.  The color shade is not suitable for my entire face, so I have decided to only use the CB Foundation on my Roseacea spots (parts of the cheek and jaw areas) and only using the powder there as well, unless I use MAC 162 brush for the apple area and above. I am resigned to the fact that one foundation shade can and will not satisfy my needs, which I already knew, but a lady can always dream, right? 😉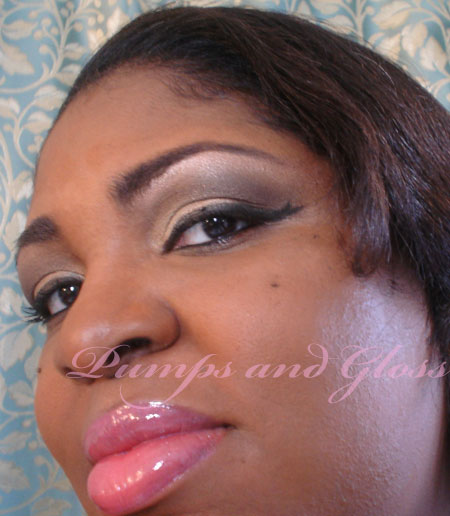 Face
MAC  Select Cover-up – NC50
Prescriptives Custom Blend Foundation
Prescriptives Custom Blend Powder
MAC MSF Natural – Dark
Eyes
Cosmedicine Oil-Free Lotion
Indianwood Paint Pot
Urban Decay Secret Service e/s
Wild and Crazy You Rock e/s
TheBalm Shady Lady – Caught in the Act Courtney e/s
Urban Decay Blaze e/s
LA Girl Mark My Eyes liquid e/l
Urban Decay Zero e/l
Makeup For Ever Aqua Eyes mascara
Lips
NYX pinky l/l
Revlon Icy Violet (very pretty) (75% off @ CVS)
MAC Hello Kitty Mimmy l/g
The Eye Shadow –

I am really like the Arissa Baked Eye Shadows.  They are similar to the MAC's mineralized eye shadows. The pigmentation is pretty good and as I stated in the Baked Holiday Goodies post, that the shadows work best with a sponge-tip applicator.  The baked shadows really pop when used with MAC Paint Pots, L'Oreal HiP Color Cream Crayons and/or Stila Smudge Pots.
Here are swatches of the Arissa Baked Eye Shadows: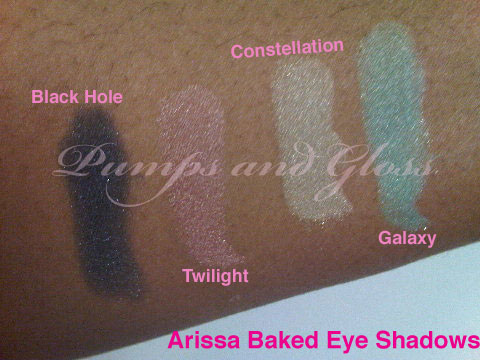 Mix Maven