Hey Glossies,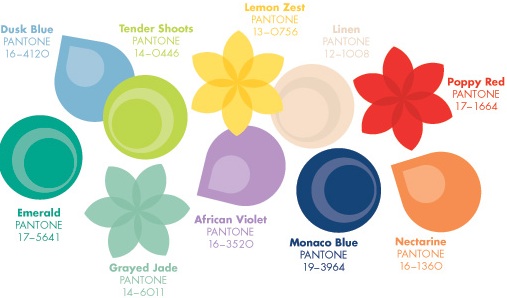 Pantone has selected some great colors for Spring 2013.  The colors play nice with each other, so have fun and mix and match.
The colors for Spring 2013 are Dusk Blue, Tender Shoots, Lemon Zest, Linen, Poppy Red, Nectarine, Monaco Blue, African Violet, Grayed Jade and the color of the year, one of my favorite colors, is Emerald.
In the sets below, I incorporated all the colors into 4 different looks.
In Set 1, I used Poppy Red, Monaco Blue and Grayed Jade.  This look would be a great option for an afternoon wedding.  I neutralized the color by adding silver pumps and accessories, even the necklace and purse have silver trimmings.
In Set 2, I used Nectarine, Linen, Dusk Blue and Lemon Zest.  This look is great for a lazy spring weekend.  Maybe going to the local farmers' market, running errands, going to brunch at the local crepe spot.
In Set 3, I used Emerald, Dusk Blue and African Violet.  This look would be great for work, church, date night.  I love the earrings because they add elegance and visual interest to this outfit.  I need this watch!!
In Set 4, I used a variation of  Tender Shoots, Nectarine and Linen.  I created a fun, flirty look by opting for  a paisley shorts that have include some of the Pantone Spring 2013 colors.  I added a youth punch of color with the shoes and watch.  The bag is great for a brunch or lunch date.
Which colors are your favorite for Spring 2013?
Mix Maven