I received my StarFlash package from .com and went to a MAC freestanding store the same day.  *I know I know … Don't judge me!!* 🙂
I received:
Sunset B. – I am not pleased with the texture …Lustre Lite is what it should be called.. Not smooth like the others. Tried with Fresco Rose and Nice Vice Paint Pots and it looked pretty decent, so all is not lost.  Someone mentioned that it looks great over Perky Paint Pot, but I do not have that one…oh well.  As Timm
Go – pretty and smooth (Definitely Tempting's unchunky twin or close cousin.)
Grand Entrance – pretty and smooth
Talent Pool – pretty gorgeous and smooth (Has more blue than Shimmermoss and since I do not have Steamy nor Parrot, definitely a worthwhile purchase)
Mink and Sable – gorgeous and smooth (Greener and darker than Sumptuous Olive)  All I can say is delish!
Glamour Check! – pretty and smooth (What BeautyBurst [for Barbie Loves MAC] should have been.
FOTD from the weekend:
(Products used are MAC, unless otherwise stated)
Face
Studio Tech NW 43/NC 50
MSF Dark
NYX Concealer in Nutmeg
Eyes
Matte Gel
Soft Ochre Paint Pot
Grand Entrance e/s on lid
Brown side from the L'Oreal Hip Duo Brazen
Brown side from the L'Oreal Hip Duo Forgiving
Tan side from the L'Oreal Hip Duo Adventurous (highlighter)
Black Ore Solar Bits
LA Colors Lash Building Mascara in Black
NYX Eye Pen Felt Liner – Black
Engraved PowerPoint Pencil
Cheeks
Barbie Loves MAC Fab Blush
X-Rocks Spaced Out
Lips
Pucker Tendertone
NYX Thalia l/s
NYX Brown l/l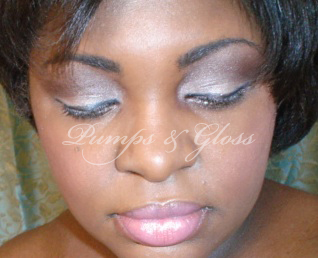 What did you all get from StarFlash, if anything?
Overall, this was a good collection.  I am not sure if I will get back-ups, but I think the collection was definitely more than hype.
Mix Maven