Hey Glossies,
Finally back to blogging. The entire family has been sick over the past few weeks and we all took turns as the primary caretaker.  Thankfully, everyone is back to business!  I will be posting a TMS Chicago wrap-up soon.  So look out for that.
I am always giving shopping advice.  My frequent advice to most people who are scared of shopping at certain retailers, is that they can shop most places to find deals and nice pieces to add to the wardrobe collection.  Sadly, I do not always take my own advice, I won't shop at a store if I find most of the items do not resemble my Taste.
This summer I have been branching out and buying pieces that I would never give a second look. (Not because I do not like these pieces, but I did not think they would work). So I saw this dress on Ann Taylor website,  the Silk Utility Shirt Dress.  I do adore this dress and it will be apart of my fall wardrobe line-up avec cardigan, of course!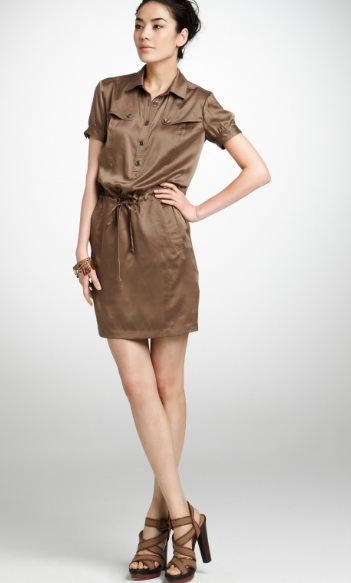 Recently, a friend and I have begun a huge undertaking that could yield great success.  As we were out getting our plans together, we decided to look around the mall.  We walked past Coldwater Creek store and I was telling her how I have seen a few nice pieces on the website, but it is not a store I want to be seen in.  We laughed and kept on our agenda.  So while we were scoping out another mall for the project we are working on,  I said, "what the hey, let's go into the store. We might find something."  I really did not have high hopes nor did I want have those hopes.  The Sales Lady, a very young woman I might add, was telling us about the sales and we smiled and nodded and began perusing the store.  I found a few pieces that I REALLY liked, but were not available in my size. Then I saw this "dress"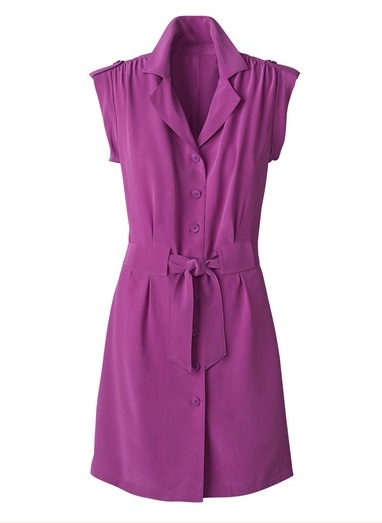 I paid a bit over $25 for this dress (original price was $159).  This "dress" is really a tunic, a very long one at that, which is why I will be wearing it as a dress with flats.  Maybe mid-fall, I will wear with black tights and such.
My friend also found a cute top for her upcoming vacation.  So all went well at the Coldwater Creek.  I do have my eye on another dress, and yes, it is really a dress.  Maybe I'll get it when it goes on sale.
I am glad I took my own advice.
Have you made any "out of your comfort zone" purchases lately??
Mix Maven