I love the spring and summer seasons for many reasons, but my number one reason is sandals! I love that I can get an inexpensive pair of shoes to match any and every outfit for the sunshine months. Target is a great place to get inexpensive, but quality sandals. I have been watching two pair in particular and they recently went on clearance for 50% off! Here are the pairs in question…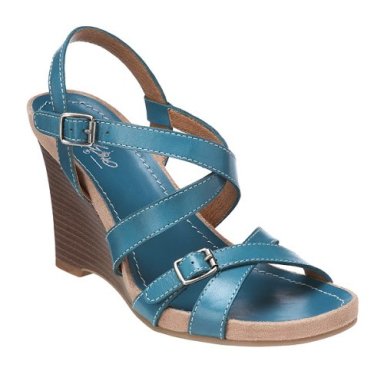 Don't let the picture fool you. This Mossimo Teal wedge is so adorable – I showed it to my husband in passing and he suprised me with them the next day. When I saw they were marked down at another store, we went to Target to exchange them. The lady at the customer service desk told me she has them in black and they are so comfortable – I said great, now give me the difference! LOL! As she scanned my shoes, she said, "These shoes have not been marked down" and she looked at her screen and gasped, "Damn!" I knew I had a good deal then.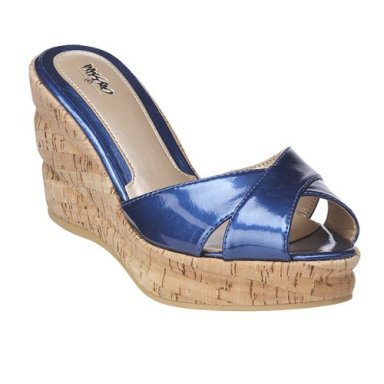 There is such a thing as love at first sight. I had to have these and when I saw they were also 50% off, I could have danced in the aisle. The color blue on this shoe is so rich and depending on who you ask, blue is the color for the summer. When you try on this shoe, as Mix Maven pointed out, it may feel like you need more support with keeping the shoe on your foot. It works for yours truly though. 🙂
Speaking of that shade of blue, Mix Maven and I were out doing what we do best – looking at shoes and M.A.C. eyeshadows. It was when we walked past a Nine West store that I fell in love once again. We go in and I try on the Nine West Chailyn – I asked for a common size nine and all they had was an 8.5 (too small) and a 9.5 (too big)! The salesman checked the system and there isn't a size nine in the whole state. Woe is me! 🙁 I have yet to find this shoe in that shade of blue any where else. I see someone on Ebay is looking for them as well and it was there that I found a pic of them…..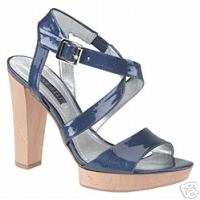 Check out the "As Seen In" page on Nine West's page, scroll to the second picture at the top and you will see them on the lady leaning on the silver ball. I know that sounds crazy, but that's what she's doing.
If I find them, or any other pair that makes my heart flutter, I will be sure to let you know. 🙂