Hey Glossies,
Some months back, I wrote a post about my burgeoning fondness for Dorothy Perkins. I have been quite pleased with my DP purchases.  I have, recently, begun wearing the mac swing coat again, but everything else I purchased was slated to be worn in the early part of the fall season.
I like the snakeskin print dresses, other than being chic, because of the versatility.  Each print is packed with about 3 colors that one can, easily, match and coordinate accessories.  I got a chance to wear the pink snakeskin print dress (with a Ralph Lauren [sateen cotton] blazer and Ralph Lauren pumps) for a birthday outing.  I wore the dress sans hose and let's just say that I put  all the Ss in "sexy" and "sassy" 😉
So, I wore the blue (multi) snakeskin print dress to church.  The dress hem hits a bit above the knee, wore black tights to tamp down the sexy, but keeping the sassy intact.  I added the Dorothy Perkins jacket.  I was able to capture the back of the jacket, which is the best feature. A lady at church stopped me as I was existing the building and said, "Girrrrl, that is a baaaaad jacket!"
Since I do not wear any jewelry, other than brooches, when I attend church, I added the Ralph Lauren oval buckle belt and Banana Republic Snakeskin embossed bag in navy blue.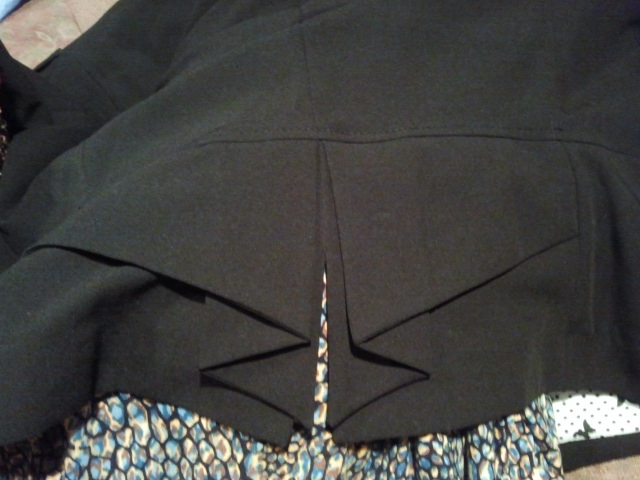 I wore the ShoeDazzle Omaira pumps.  The material is faux-suede, which, normally, would be fine, but I find that the heel counter area of the shoe was not supportive, the material was flimsy.  I felt like I was wearing paper shoes.  I have a few other Shoe Dazzle shoes that are made with faux-suede and the materials were much stronger, so I am not sure what happened with this shoe. SIDEBAR: I am on a mission to find a similar pair in leather!!
Below is the complete look.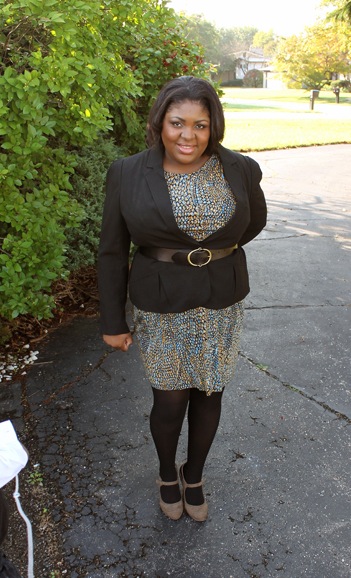 Mix Maven
\