Happy Glossies,
Two years ago, I started wearing dresses on a very regular basis.  The last time I wore a dress prior to 2010 was my wedding dress and that was a quite a few years prior.  Instead, I wore skirts.
When I saw the Capra dress (below), I knew I had to have it!  The splash of deep teal, black, shades of brown and one shade that looks like a rusty coral.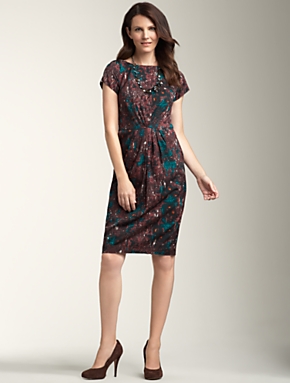 The plan was to wear the Capra dress with the BCBGeneration Parade Platform Pumps in bronze leather. [Sidebar –  I realized that I  did not own any metallic leather pumps in brown/bronze. *gasp* How was I living??]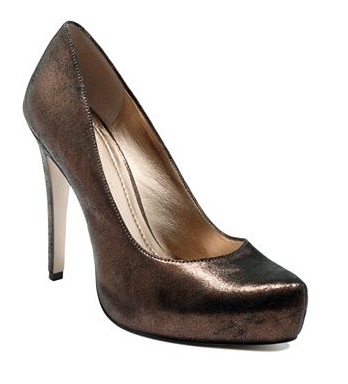 Well, while coming down the stairs one day, I tumbled over 4 steps, injuring my knees and left leg and foot.  Thank God nothing was broken.  So I opted to wear the Calvin Klein Dolly in Navy because flats were not an option.  I love the color of this shoe, even though it is not a true navy. The color is more like a very smoky teal.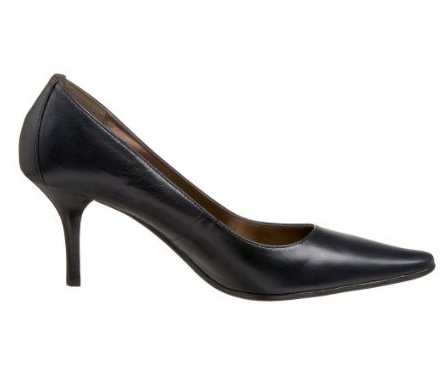 OOTD Details
Capra dress – Talbots
Cardigan – Talbots
Belt – Ralph Lauren
Hosiery – Talbots
Dolly Pumps – Calvin Klein

What I learned from this OOTD
I need more cropped cardigans.  The cardigan I wore is a lovely color and brings out the matching shade, but it was overwhelming. I wore it because the place that I was going to is either really cold or really hot and, sometimes, at the same time in different rooms.
Mix Maven