Hey Glossies,
Today's Friday Footwear selection comes from Susanne, a dear fashionista friend who loves her animals and adores the finer things in life, while finding the prettiest pieces on the frugal.  She selected the Prada Patent Tailpipe Pump in Bordeaux.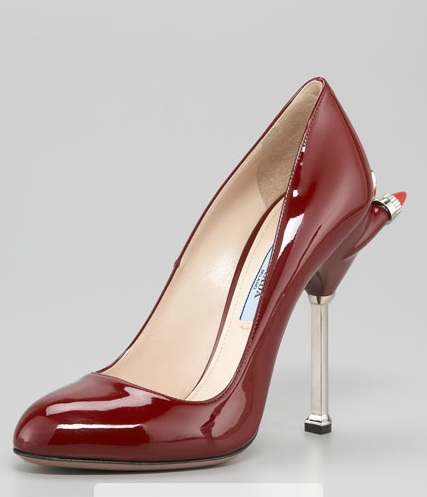 First of all, the shoes are red. How can you go wrong with a red shoe? A high, red shoe says that you believe you're sexy on a cellular level. It symbolizes confidence. Now, you can easily overdo an outfit with high red shoes, transforming it from sexy to trashy in a flash. But, that's what's so appealing about red shoes – how precariously an outfit including them straddles the line between provocative and prostitute. Take these Prada shoes. Taillights add a bit of whimsical va-va-va-voom. Gorgeous and sexy with a beautiful, not-too-revealing black dress. Trashy, with a short black leather mini-skirt, big hair, and chewing gum.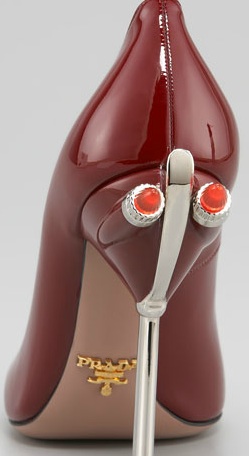 This shoe also comes in Nude, but it does not pack the same "va-va-va-voom" as the Bordeaux.  Heel is 4.5 inches and it retails for $820.
Thank you for a  fun shoe selection, Susanne!!
Mix Maven