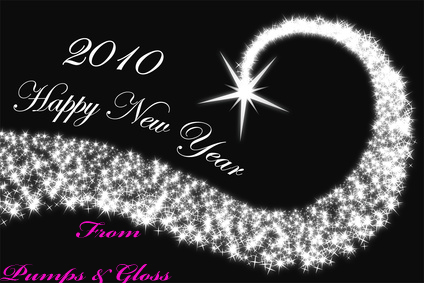 Happy new year to all my Glossies!
I wish you all a wonderful and prosperous 2010 filled with love and beauty.
My new year's celebration was pretty lowkey.  We went to church around sunset for a prayer and praise service, which was spirit-filled and blessed.  This left us time to eat and hang out with the family @ Chez P&G.  The TM aka Mr. Touch-A-Lot was in his element and had loads of fun playing and laughing. 🙂
I want to thank all of the readers who stop by Pumps and Gloss on a regular basis.  Thank you for the kind comments.  All visits are definitely appreciated and welcomed.  Also a special thank to all the bloggers who show the site love, via blog roll and/or leaving comments.  Thank you *huggles huggles*
For the new year, Pumps and Gloss will be doing more contests, returning to more substantive posts and more fun all around.  There are some surprises up the sleeves…cannot wait to unveil.
Here is my NOTNY – nails of the new year 😉