I love Hello Kitty, since elementary school when Mummy Maven bought me a Hello Kitty pencil case.  I kept that thing as long as I could. LOL  Now, that I am older and do not have a daughter, I buy Hello Kitty stuff, especially barettes, little purses, stickers and such for 2 of my little cousins, both under 6 years old.
Now, I have a limit to my Hello Kitty love.  I will not wear Hello Kitty apparel (including underwear), shoes.  I do not and will not buy Hello Kitty wallets, jewelery, nor purses. (I will get a tote bag!)  Now, I am all over notepads, mugs, bowls, ziplock bags, ice packs (which come in very handy), pens and pencils.   FYI, check your local Target for Hello Kitty paraphernalia in the Dollar section.
Last year, when it was time to order checks, I ordered Hello Kitty.  Now, I had to check with Mr. Maven because since the account is joint and I did not want him to feel bad about presenting a Hello Kitty check.  Well, he was cool with the idea because he rarely uses checks, especially since I am the Home CFO, so I placed my order.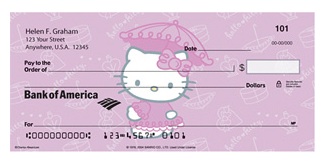 Recently, I was in the bank doing a transaction and I gave the teller my Hello Kitty check for deposit. After the transaction, she showed me a Hello Kitty debit card.  Whoa-wee, I was very excited.  The card is too cute. As soon as I got home, I called up my bank and ordered my Hello Kitty check card.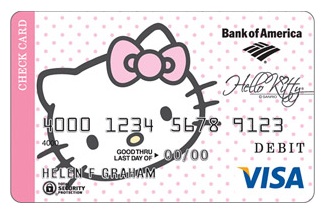 There is buzz on Specktra that Hello Kitty and MAC will collaborate for MAC's anniversary collection. That sounds better than good to me.   Someone cracked me up by saying (paraphrasing), "How can Hello Kitty promote lip gloss when she has no lips?"  Too funny LOL!!!  *Good point* I cannot wait to see the  products and colors that will result from the collabo.  The launch is slated for early 2009.
Mix Maven