I am huge fan of Conan O'Brien and had been watching his Late Night show for years.  Mr. Maven and I would huddle around the TV and watch his show on Comedy Central, where they would re-air the show from the previous night, this was prior to us getting our first DVR. After we bought our first DVR, Replay, I set Late Night with Conan O'Brien to record every night.  Even adding extra time for late night interruptions like Wimbledon Tennis, late hockey games and so forth.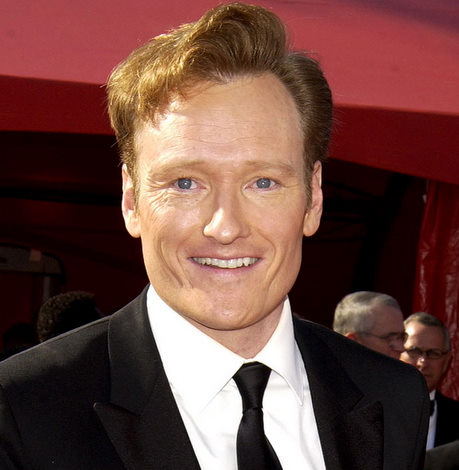 We, the Mavens, were excited about Conan's move to the Tonight Show. As a young lass, my brother and I would watch Johnny Carson during summer vacation and we thought he was too funny. I was not a huge fan of Jay Leno (maybe because I missed Johnny after his retirement), but I do think Jay is funny.  I tell you, if it weren't for the Roots on Late Night with Jimmy Fallon, I would have been in Conan rehab for those 3 months lol.  I was glad when Conan O'Brien took over the reigns at the Tonight Show, even though the Masturbating Bear was no longer in the line up.  LOL Once again, I set-up the DVR to record Conan's show.
Yes, Conan is silly and I think that is what makes him special. I love how he can make any celebrity interesting by using his special flare for self-deprecating jokes. I love how Conan's ginger pompadour jiggles and shakes when he laughs…. it is its' own person. LOL And I could not forget the  "String Dance"! This Harvard graduate could have easily found himself working in the government in a high-level position or maybe even in industry as an executive, but he followed his dream/passion and went into comedy as a writer and performer.
[youtube http://www.youtube.com/watch?v=FiTh1PchVYU%5D
[youtube http://www.youtube.com/watch?v=hVg1CW08oHA%5D
So during this debacle, Conan's ratings has increased 42% and I hope this trend continues because I love me some CoCo.  I think if his people could book General Larry "Pants on the Ground" Platt on the Tonight Show, his competition would be biting the dust.  You're welcome, Coneezy!  ;-D
I wish him all the best and I hope he comes out on top. I have my remote ready to set the DVR.
Check out  Conan O'Brien's  funny, yet inspiration keynote speech at Stuyvesant High School class of 2006 graduation. Part 1 and Part 2.
Mix Maven