My home girl, Yummy411 , aka President of "The Pretty Committee", called me out for being a Cherry Culture fanatic. 🙂 I want to blame her because she exposed me to Specktra, where I learned about Cherry Culture. LOL!
One of my new favorite nail polish brands is LA Colors.  The bottles are shaped like OPI polishes at fraction of the cost ($2!!!) and less toxins. I found this product on my foray at the Cherry Culture website.  The LA Colors lacquer, Vibrant Violet,  was apart of my first purchase on Cherry Culture.  I was totally pleased with the brilliance of the color and purchased other colors from Cherry Culture. One of the Specktrettes (a Specktra.net member) discussed buying LA Colors products at her local dollar store.  I decided to head a Dollar Tree and I noticed that this store carried a few LA Colors products that I have seen on Cherry Culture's website. (Unfortunately, no LA Colors nail polish… 🙁
Here is what I got: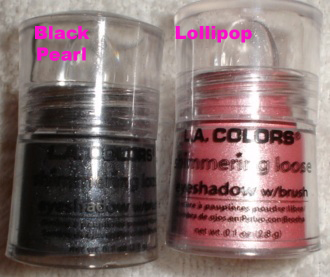 LA Colors Shimmering Loose Eye Shadow – This product is similar to MAC pigments, which I love, but I find them to be somewhat chunkier than most pigments.  I am glad I only paid $1 and not the $3 listed on Cherry Culture.  The brush applicator is not favorable and I will find away to open the container (without too much fallout) to put in another container.  If you are starting out on the makeup scene, definitely check these loose shadows out, which is why I gave them to my cousin J to play with.  (Always remember to use a base when applying any type of eye shadow!)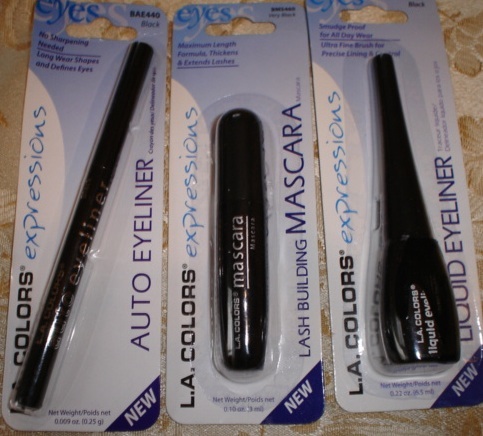 LA Colors AutoLiner, Mascara and Liquid EyeLiner
I have not used these products yet, but I have heard rave reviews about the mascara and autoliner. These products range between $2.50 and $3.00 on Cherry Culture.  The liquid eyeliners are, somewhat, issued, because some may be opened and have a bit of dried liner liquid on the product (see photo) Hey, only $1!
My Cherry Culture Haul from the recent 20% off sale:
NYX Brushes
I like NYX brushes.  You know I still love my MAC brushes, (especially the black-bristled brushes).  As one of my friends says, "What's better than money? More money!" I have the same feeling about brushes.  One cannot have enough makeup brushes. I have other NYX brushes and I use them alongside my MAC brushes.
I ordered: NYX Professional Blush Brush (I will use for foundation blending), NYX  Professional Eye Primer brush (similar to MAC 252) and a NYX Professional shading brush.

I also picked up one of my favorite low-cost eye shadow brands, Wild & Crazy.  This time I got "Favorite Pink" which is a dupe of MAC's Da Bling eye shadow.  The texture is great and is blendable.  For the most part, I have enjoyed the Wild & Crazy eye shadows that I have, except for a matte.
I decided to try NYX's nail polish in Barbie Pink. The pink is vivid and pretty. I cannot wait for my next manicure appointment. (which is very soon) 😉
I also wanted to try the LA Colors metallic palettes. The palette is called "Serenade" a series of pink shades.  The shadows are pigmented, but the palette is smaller than I thought it was going to be.  I swatched a few of the shadows on my hand, so I think they will be fine.  For the $4 price, I am pleased, though, chances are I will not stock up on the other LA Colors metallic palettes.
Overall, I am pleased with my haulage. MAC has some good stuff coming out almost every month of 2008, so I am definitely bracing for that.  Happy Haulin' to you!!
Mix Maven
FYI, I am not a photograher…. ok 😉