I've been tagged by Miss.Stephanie.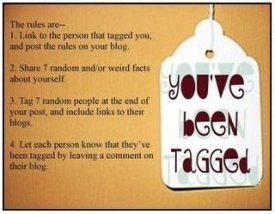 1. Link to the person that tagged you, and post the rules on your blog.
2. Share 7 random and/or weird facts about yourself.
3. Tag 7 random people at the end of your post, and include links to their blogs.
4. Let each person know that they've been tagged by leaving a comment on their blog.
Here are My Random Facts:
Loves vegetarian black bean soup.
Does not like the CNN.
Thinks the upcoming Musiq Soulchild album is gooder than good!
Saw the Boston Celtics at the Fleet Center when they kinda sucked. Now they are defending their NBA crown and yes, I am bitter. 😉
Can be found in Macy's kids dept looking for infant boy clothes.
Has never been inside a L'Occitaine
Loves D&G Pinapple …. Best Pineapple soda pop in the world!
I have tagged The 2 spirited writers of  Rants of a Wild Child, Mami's Time Out,Beauty And The Cleat, 12th Planet, The Journey of Ms. Devereaux, Ms. Cuppycakes.  Cannot wait to learn new things about my fellow bloggers.
Mix Maven