Hey Glossies,
I hope that the weekend was fun and exciting.
Gel liners are my favorite.  One of my favorites is MAC fluidline. I have a few and my new acquisition is Midnight Snack, a soft black.  Sometimes, I do not want an intense eyeliner and my hope was that Midnight Snack would help me achieve a softer look.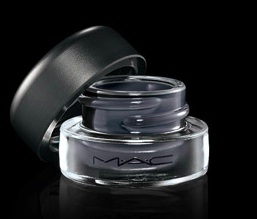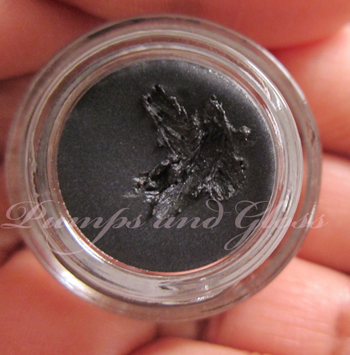 I found this particular fluidline to be "wetter" than other fluidlines that I have, which I find troubling only because the "wetter" gel liners tend to dry out quicker than "firm" gel liners e.g. Shiseido creamy liner and Shu Uemura painting liner.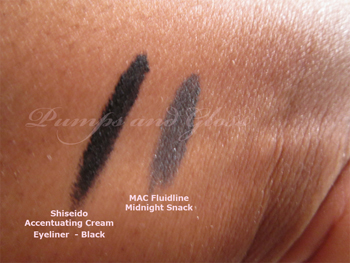 Comparison between a bold black (Shiseido) liner and Midnight Snack.
FOTD Details
I was not sure if the liner would even show up on me.  The  swatch seems fairly light. Well, I am pleased to say that Midnight Snack fluidiner shows up on me very well.  It gave me the less intense look that I desired.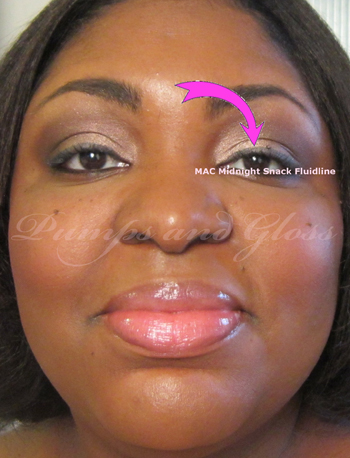 Face
Maybelline Instant Age Rewind Primer Skin Transformer
Maybelline Dream Smooth Mousse foundation – Caramel
NARS Sheer Glow foundation – Benares
Eyes
Cosmedicine Oil control lotion
MAC Below Ground grease paint
MAC Subtle pigment
MAC Saddle e/s
MAC B-Rich e/s
MAC Buckwheat e/s
MAC Glamour check e/s
NARS Mekong e/s
Revlon Bronzed Copper e/s
MAC Midnight Snack
Ruby Kisses 24 Hour Eye Define Liner
Dior Diorshow Extase mascara
Cheek
Lips
MAC Pucker Tendertone
MAC Phlox lipstick
NYX liner – brown
Mix Maven