As we all know that October is Breast Cancer Awareness month. For over 25 years, Octobers have been spent learning about breast cancer and supporting charities that work tirelessly in helping out survivors.
The Young Survival Coalition, based in New York City, helps women under 40 who are battling breast cancer.  As we know, often times insurance companies will no cover mammograms for women 40 unless there is a family history.  YSC is dedicated "to the critical issues unique to young women and breast cancer. YSC works with survivors, caregivers and the medical, research, advocacy and legislative communities to increase the quality and quantity of life for women diagnosed with breast cancer ages 40 and under."
Tarte Cosmetics has partnered with  The Young Survival Coalition to help raise funds for the organization.  For the entire month, Tarte will donate 20% off the proceeds from the Think Pink Natural Collection.  Free pink go dutch clutch with orders of $40 or more from the Think Pink collection.  The offer code is PinkOct9.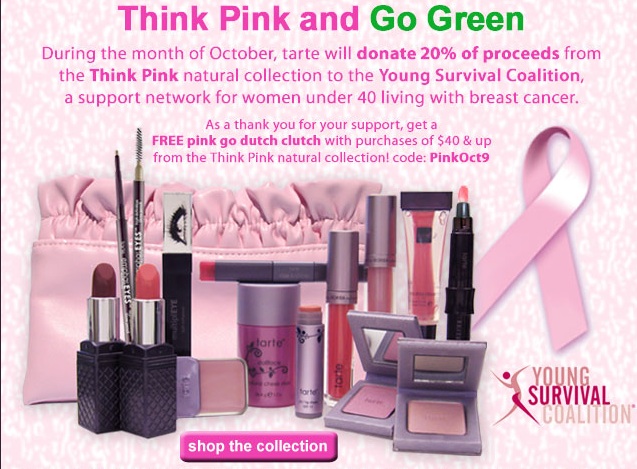 Please support this great organization and Tarte too. 🙂
Mix Maven