I love ties and I love when men wear ties that please my eyes.
When I was a youngster, I used to wish I could wear a uniform to public school. Papa Maven gave me one of his school ties from high school, a lovely purple and silver(white) one. O how I loved that tie!
When I was working at the "Fun Shack" (not actual name of company), there was an architect who wore a knit tie with a plaid shirt. He seemed to wear the tie shirt combo for special business meetings. I always thought that, maybe, he did not have that special lady in his life to help him select some great ties.

These ties should NOT be around anyone's neck, but these ties would make lovely ladies' belts or headbands. Never, ever do I want to go on the street and see this fashion travesty. (OK, now I am going to see the 'hugly" ties everywhere!)
So Mr. Architect should have chosen a tie like this khaki olive tone tie to wear with a blue shirt or a white shirt.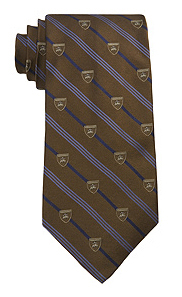 I heart the Greens, which is why I am like this tie. This classic option looks great on all men.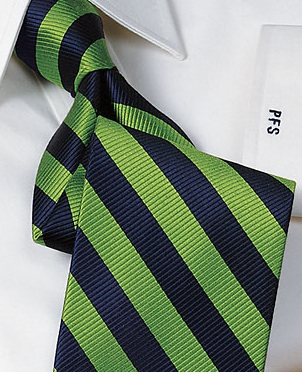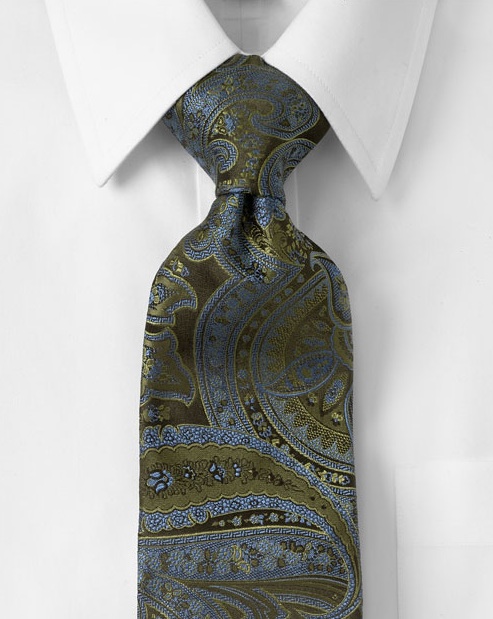 A pattern tie with a superb suit/tie/shoe combo can be irresistible. This tie must be matched and coordinated carefully. For example, Mr. Architect could have worn this olive green, soft blue, gold tie (hmm reminds me of MAC's Quarry Mineralize eye shadow, without the bronze) avec a neutral color shirt.
Ladies, I implore you to NOT let your men pick their own ties. (For the good of the land!) Men can and will run a muck, and get something tres unattractive. Ladies, if I see your men wearing flags, animated characters, other unapproved themes and knit ties, I am going to have to call the Fashion Police… And it will not be pretty at all!! 😉
Keep It Right,