One of my favorite shows is Style Network's "Whose Wedding is it Anyway?"
The wedding planners do an excellent job creating elegant and unique events. (Sidebar: The show is a chock full of ideas for brides-to-be.) Yet, I have noticed that some of the guests at the reception looking as if they are attending a summer cookout in the backyard with flip flops on and/or super casual wear. Wedding season is upon us, so we need to look our best.
When I attend weddings, I am always aghast at the clothing choices. Ample-busted women need to stay away from spaghetti straps and strapless bras. Yes, designers make these tops and dresses, but that is no excuse to wear them. Back away from the spaghetti straps, and find a dresser or blouse with thicker straps. Also, if you need butter to go with your "rolls", stay AWAY from baring your back. I am champion for loving and being comfortable with your body, but I believe that common sense is far more important!! If you have ample bosom and a thick waist, I strongly suggest that you show A LOT of cleavage because no one will ever see your waist, as they will be fixated on your bosom. 😀
Let us take a look at some acceptable looks for a wedding.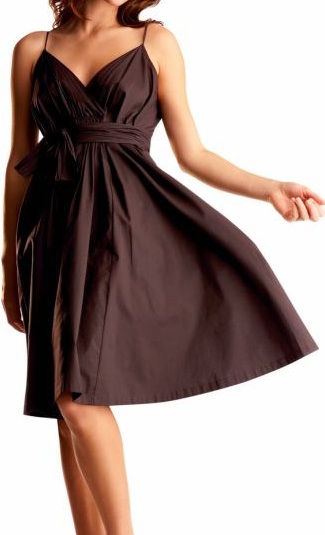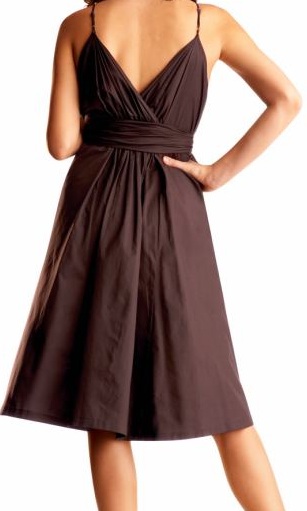 Brown is a very dignified neutral that can be paired with most colors, especially shades of brown. You can jazz this up with a great necklace or chandelier earrings. If you do not wear jewelry, add a funky brooch. Cardigans and wraps can help create a fab wedding outfit.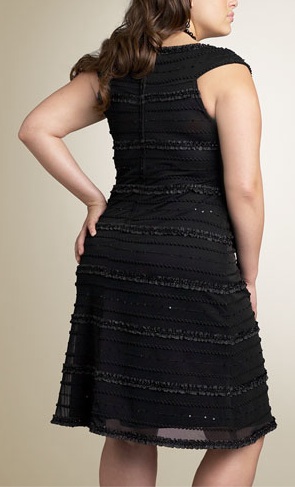 This black sequin-embellished ruffle dress is a great option for plus-size ladies. The straps, color, and fabric will be forgiving, and emphasize the BEST of your body.

This blush pink silk chiffon dress is fun and flirty. The sequin accents draw the eye to flattering areas of the body. I suggest that if you have a great back, leave the wrap at home or in the car. Wear this dress confidently.

I hope the information will help you or help someone you love get some fashion acumen. As Dame O says, "When you know better, you do better!"

[youtube http://www.youtube.com/watch?v=JKboiPjSr18%5D

Next week, we are going to discuss appropriate shoes for weddings because I see that as a problem that needs to be rectified.

Be Blessed & Best Dressed,

Mix Maven