Hey Glossies,
I love a printed skirt. It can add so much visual interest and the print makes it easier to create a great look.
I 'built' the outfit based on the Anne Klein pleated skirt and I pulled out the colors of the skirt.  The colors may not seem fall-like, but the colors are cool. Remove the cardigan and change the belt color and the look could easily be a late spring/early summer look.
I cannot stress how much I love Ralph Lauren and his work with ruffles.  The top is Ralph Lauren in fig purple. The ruffles are silk and the bodice is jersey knit.
I love the cardigan in a charcoal grey because it winterizes the look without the harshness of black.  I repeated the grey and purple in the pumps.  The belt in purple suede was a gift and I am pleased and grateful that I did not have to hunt for this color because it would not exist. lol
The hosiery situation was, moderately, tricky because I was thinking about wearing grey opaque tights, but I did not see any that did not remind me of thermal underwear.  I was perusing Talbots and I stumbled upon the ash grey panythose, which I thought was a better solution than wearing neutral or black pantyhose.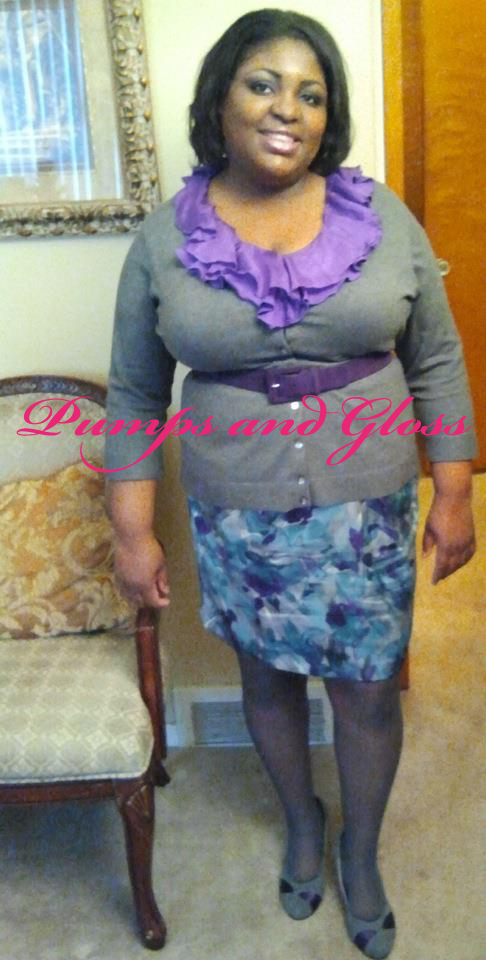 Outfit details
Cardigan – Style & Co.
Top – Ralph Lauren
Skirt – Anne Klein
Belt – Ralph Lauren
Ash Grey Hosiery – Talbots
Pumps – ShoeDazzle
Mix Maven