See the inventive ways our top reviewers use this product
This is a TotalBeauty.com Skin Care article
We asked 20 of our top reviewers to shake up their beauty routines and rethink the way they use Vaseline Jelly. From an exfoliation scrub to an overnight treatment, see the ways they tested it out.
Everything you need to keep your skin in tip-top condition this winter
This is a TotalBeauty.com Skin Care article
Nothing says winter quite like snowy days and crisp, fresh air. Unfortunately, these can also wreak havoc on your skin, making it parched and dry. We've got the tips and tricks to DIY your way back to smooth, glowing and hydrated skin.
Hey Glossies,
So the Polar Vortex is returning to my neck of the woods.  But all I can think about is spring and what I want to wear during that season.  Talbots Spring 2014 collection has begun to appear in the store and I have some favorites for the season.  The collection reinforces Talbots' preppy roots.
Below are my faves:
What are your favorites for Spring?
Mix Maven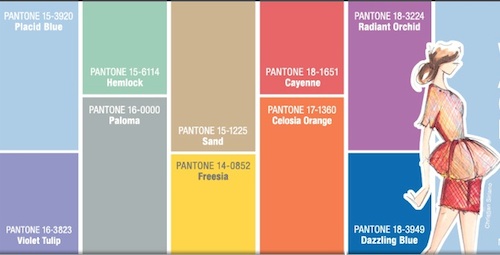 Pantone has selected some great colors for Spring 2014.
The colors for Spring 2014 are Placid Blue, Violet Tulip, Hemlock,  Paloma, Sand, Freesia, Cayenne, Celosia Orange, Dazzling and the color of the year, Radiant Orchid.
In the sets below, I incorporated all the colors into 4 different looks.  I selected solids to showcase the richness of the colors and how flexible you can be with the color combinations, but don't hesitate to search for prints with these color combos.  Prints always add more visual interest.
Simple does not have to be boring.  In Set 1, Paloma and Dazzling Blue were used.  The colors are enhanced with a pop of white and the 'blurred lines' of the clutch.
In Set 2, I used the Celosia Orange, Hemlock and Sand.  In this set, Hemlock (light green) is used as an accent color.  The Celosia orange punches up the combo with a freshness and excitement.  Though very neutral, Sand earns it keep in these tailored shorts, by not receding into the background.  If shorts are not your thing, opt for a pencil or A-line skirt.
Pantone Spring Colors 2014 3 by pumpsandgloss showing what to wear with platform pumps
In Set 3, I used Cayenne, Violet Tulip and Freesia.  Cayenne (mid tone coral) will never not be en vogue in my world.  The warmth of Cayenne and Freesia heats up this outfit. The Violet Tulip  (the sandal pumps) is close by to cool down the other 2 colors, but not allowing any of the fabulousness to decrease.
In Set 4, I used Placid Blue and Radiant Orchid. The Radiant Orchid is a lovely focal point.  The Placid Blue, in the necklace and pumps, offers a refreshing contrast.
What are your favorite colors or  color combinations for Spring 2014?
Mix Maven
These 12 game-changers will give you the crease-free, long-lasting application you crave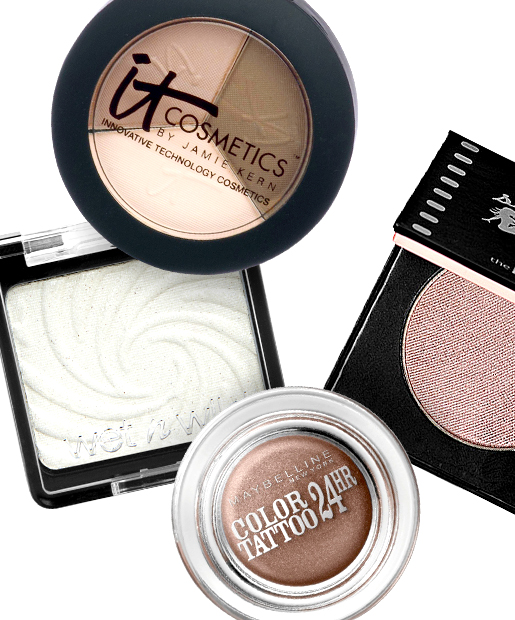 This is a TotalBeauty.com Makeup article
The right eye shadow can make or break your look. After all, your smoky eye is only as good as the shadows you use to create it — and nobody likes looking in the mirror and finding their perfectly applied shadow caked, flaked and creased everywhere. To make sure this never happens again, we found the 12 best reader-reviewed eye shadows that will take you through the 9-to-5 grind and beyond.
No. 12: MAYBELLINE NEW YORK EYE STUDIO COLOR TATTOO 24HR CREAM GEL SHADOW, $6.99
TotalBeauty.com average reader rating: 9.3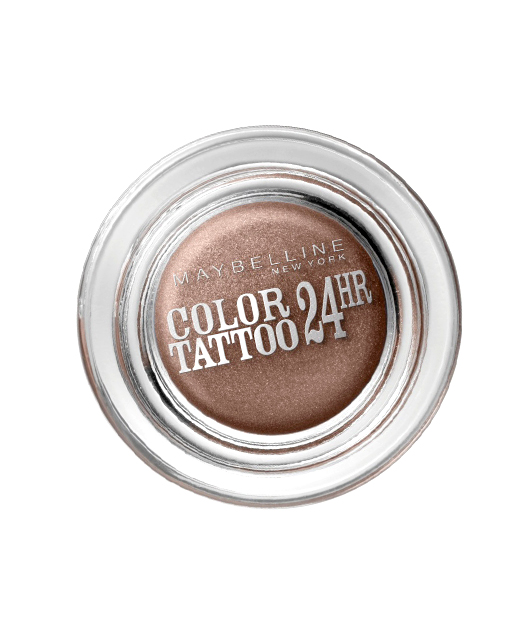 Readers adore these long-lasting shadows, which have "a creamy gel texture that is easy to work with."
TotalBeauty.com average reader rating: 9.3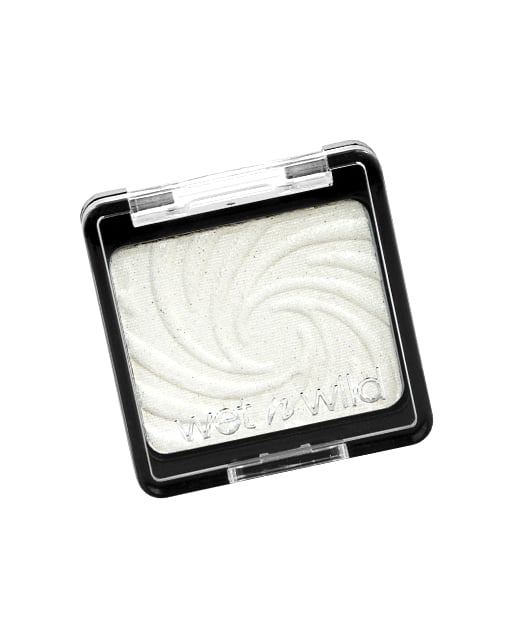 Other than the crazy low price, the "truly creative, fun, sexy" color options are what make these Wet n Wild shadows must-buys.
TotalBeauty.com average reader rating: 9.4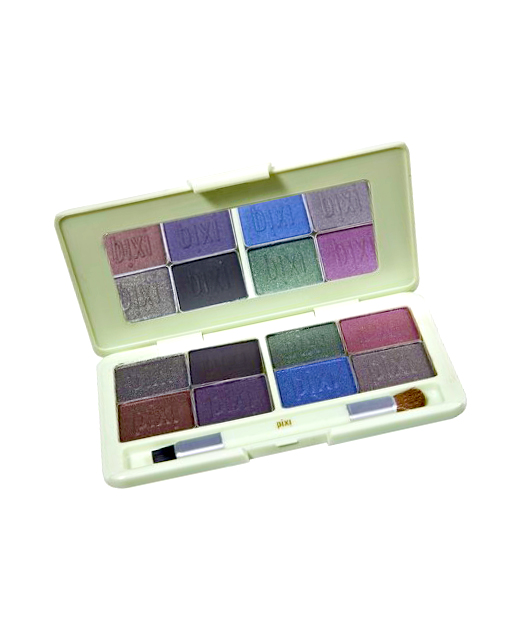 "You can go from a neutral to a smoky eye easily, and they last a long, long time."
Hey Glossies,
Obsessive Compulsive Cosmetics has launched 12 Cosmetic Colour Pencils that are billed as long wearing. The colors range from neutrals to brights. The pencils are versatile – can be used on brows, eyes, and lips. *
They are available at Sephora and OCC's website.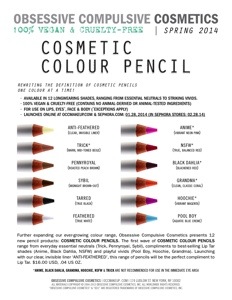 I am looking forward to trying the colors: Sybil, Tarred, Black Dahlia and Hoochie.
Are you excited about the new OCC colour pencils? If so, which colors are must haves?
Mix Maven
*Some of the colors are not eye safe.
You won't want to miss these new products, coming this January to a drugstore near you
This is a TotalBeauty.com Health & Beauty article
Holiday shopping has not been kind to our bank accounts, which is why we're thrilled that some of the best products launching this January can be found at stores like Target and CVS. From a BB Cream for your body (prediction: this is going to fly off the shelves) to a dry shampoo that won't leave your hair matte and dull, there's a little something for everyone.
Hey Glossies,
It is the most wonderful time of the year. Carols have been sung, eggnog has been consumed, presents have been opened. What else is there to do? Hmmm well, it is time to spend those gift cards buying wonderful goodies.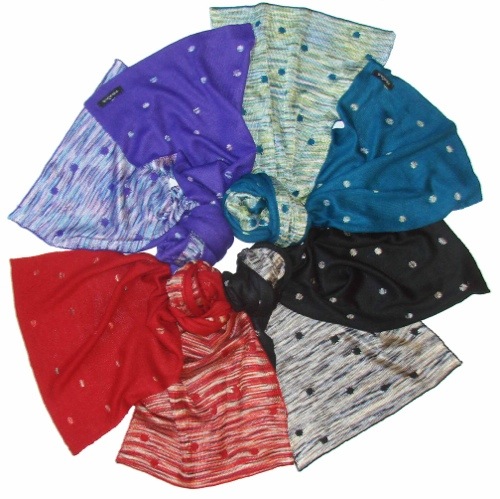 Allow me to recommend the Fraas reversal scarf. It comes in several different color combos and is a great option for fall and winter. The scarf is made of viscose and acrylic. It is comfy around the neck.  Pair it with a trench coat, blazer or wool coat!
Going green is better for the environment and better for you — but it can be tough to find products that work. These vegan beauty products will wow you
This is a TotalBeauty.com Makeup article
"Vegan" doesn't have to be synonymous with "ineffective." Newsflash: You don't have to sacrifice your ethics to find a product that works. We tried a slew of vegan beauty products and found the ones that we'll be working into our current beauty routine. Check out these 11 completely cruelty-free products.
Hey Glossies,
Playing with color can be so much.  Think about the time when getting a 64-crayon box made the sun shine brighter.   I still love the joy that colors bring. My rule on color is the brighter the better and all at the same time.

Ok, well, I do need a bit more balance.
In the OOTD, I started with the Boden Pique Mini (navy irregular spots).  Paired it with a fuchsia top, royal blue shoes, turquoise purse and black jeweled necklace.  I selected the royal blue shoes because I thought it would make the navy blue dots pop out more than if I wore a navy or neutral-colored shoe.  The turquoise purse added the extra punch.
I opted for the J. Crew black diamond necklace, but I think adding more color would have been just as fun.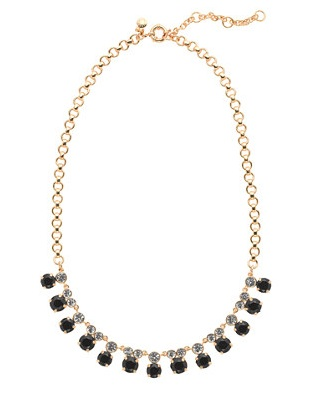 I also love these necklace options: