Pumps and Glossers,
The first Face of the Day (well actually Night) on this blog…woohoo let's have a party! (Ok, maybe not!) 🙂
Mr. Maven and I decided this week was a great week to resume date night (6-week hiatus). Since we both work from home, we wanted to make sure that we leave the house a few times of week  for the purpose is not related to getting the essentials (including cosmetics.) 😉
We did the dinner-movie combo. The Mavens had a grand ole time.  We went to see Hancock.  I love a good action film (more kick assery-less chatter)!! The movie had a little bit of both.  If there is a Hancock 2, I want to see less chatter.. LOL  I loved the scene where Jason Bateman's character, "Ray", showed Hancock some clips of him crime fighting on YouTube.  Hancock's clothes were burned from saving residents from an apartment fire.  The buttocks exposed were definitely looking really good! *Bagel Buns (Yum-oh!!)* 🙂
Makeup Chatter
I do not really plan looks, but since I have been haulin' lately, I decided to at least use MAC Black Ore Solar Bits some kind of way.  I love Black Ore Solar Bits and I went to minor lengths to get it after being sold out online and in my area.
The products that I used:  (All products MAC unless noted)
Face
Monistat Soothing Care Chafing Relief Powder-Gel,
NC 50/NW 43 Studio Tech Foundations,
NYX Concealer in Nutmeg,
Eyes
Matte Gel
Indianwood Paint Pot
Hard Candy Disco 2000 #2 e/s
Amber Lights e/s
Too Faced Shooting Star Glam e/s
Black Ore Solar Bits
Hard Candy Fringe #2
Tempting e/s
LA Colors Mascara Soft Black
NYX Black Felt Pen Liner
Cheek
Margin Blush
Lips
Pucker Tendertone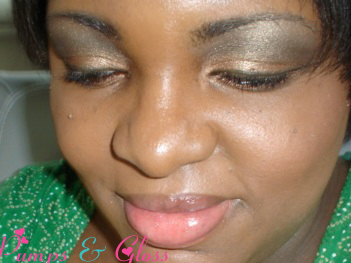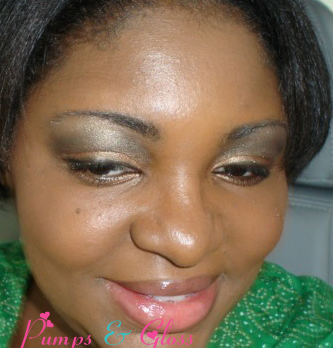 Have a super weekend!!
Mix Maven