Hey Glossy Ones,
Just wanted to share this adorable shoe I saw this evening.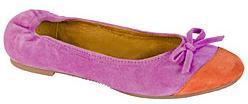 The Tuti is the cutest shoe – it just looks sweet, doesn't it? 
From NineWest.com: Our limited edition breast cancer awareness shoe! Features a a colorful cap toe, dainty ribbon, elastic back for easy on and off, as well as the breast cancer awareness ribbon stamped on the inside. **Net proceeds from the sale of the pink Tuti benefit breast cancer research.
Original Price $69.00; Sale Price $34.50