Hey yall, I am Sexual Carob (long story) and I will be filling in for Sensual Element while she is away at a stiletto and whip convention. Of course, the convention is in an undisclosed location.
I subscribe to the DailyCandy weekly e-mails. Daily Candy is a lifestyle website that sends readers information regarding travel destinations, new products gadgets, sales, etc. Most of the time, I read the article and delete, but Wednesday's edition was different.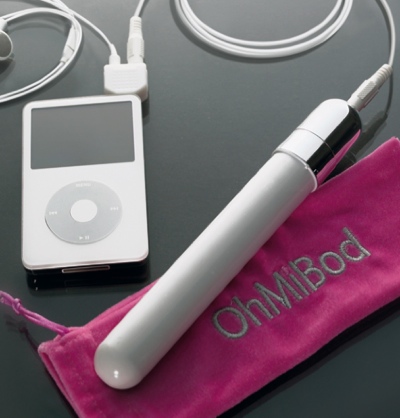 The product featured was the OhMiBod, a massager / vibrator to be used with an Apple iPod. (I see why Joyful Radiance and Sensual Element have the iPod on their wish lists.) The rod pulsates according to the rhythm of each song. The unit measures 5 1/2″ long (insertable) and 1 1/8″ in diameter. The DC suggests " a slow rise from Sade to Shaggy" or whatever kind of music you like. OhMiBod retails for $69. (hmmm interesting price). The reviews have been glowing, but I think further research needs to done on this product. 😉
The same company offers a mobile phone version call the Boditalk. The Boditalk functions the same as the OhMiBod. The vibrations occur when calls are made to or from your phone. The cell signal triggers a unique 3 pattern vibrating sequence that lasts for the entire call. Boditalk gives a new meaning to the term "phone sex" Fortunately, if you do not want to use up your minutes, the Boditalk sex wand can be used alone. This product also retails for $69.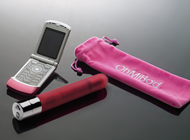 FYI, if you try to order the OhMiBod from the manufacturer's website, the item is on backorder (ok well, I am curious about it!!) But there is a coupon code for $10 off. See the OhMiBod site for details.

Check out the promotion for OhMiBod.

[youtube http://www.youtube.com/watch?v=a3a-V1Bi6po%5D

Have a Delicious Weekend,

Sexual Carob